Workers uncover hidden history at Rockwell Collins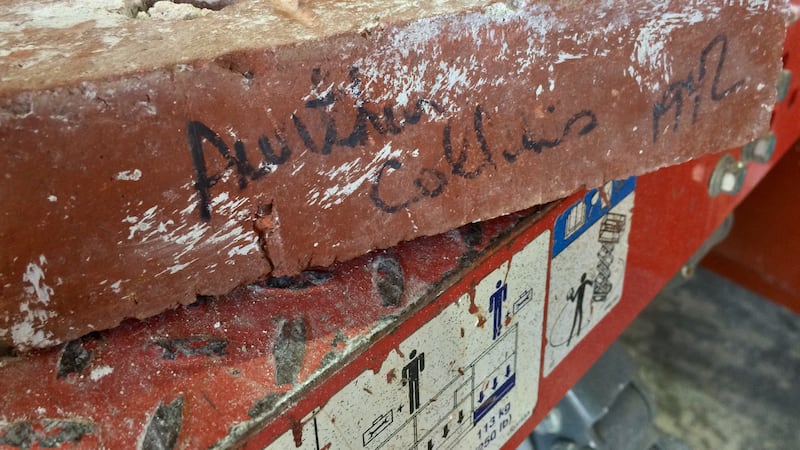 Published: Aug. 7, 2018 at 9:09 PM CDT
A bit of Cedar Rapids history popped up in an unexpected place this summer. Arthur Collins, the founder of Collins Radio which later became Rockwell Collins, signed a wall in the company's original building 76 years ago.
And a large remodeling project uncovered the unexpected bit of industrial history.
Cody Silver and Eric Baumgartner are part of the in-house construction crew remodeling the original Collins Radio building on 35th Street N.E.
When they tore into an old wall near the original executive's suites they found something they weren't expecting.
They uncovered a brick with the signature of Arthur Collins and the date 1942.
"Took a second to see it was real because you never know if somebody was trying to sneak up and play games with you," Baugartner said.
But the autograph was real.
Photos sent to surviving Collins family members confirmed that was the signature of the man who founded Collins Radio in 1933.
1942 is the date the original company-owned building opened on 35th St. N.E.
Cody Silver says as word got around the company, he and Baumgartner suddenly had lots of visitors to the construction site.
"All within a couple of days we had tons of people who wanted to come and look—come to the door, ask us what it was and if we found it," Silver said.
Rockwell Collins has a museum with company history on display.
Terry Lamb, a volunteer, says the collection contains many photographs of Arthur Collins and examples of early equipment.
But there's never been an autographed brick on display.
"The first question we're getting is what are you going to do with that? So senior management is leaning to a display in one of the main buildings," Lamb said.
Lamb, who worked for Collins for 10 years in the 1960s, said autographing an interior wall of a then-new building would be unusual for a publicity-shy man.
But he guessed maybe Collins just had a good day and decided to leave something for posterity.