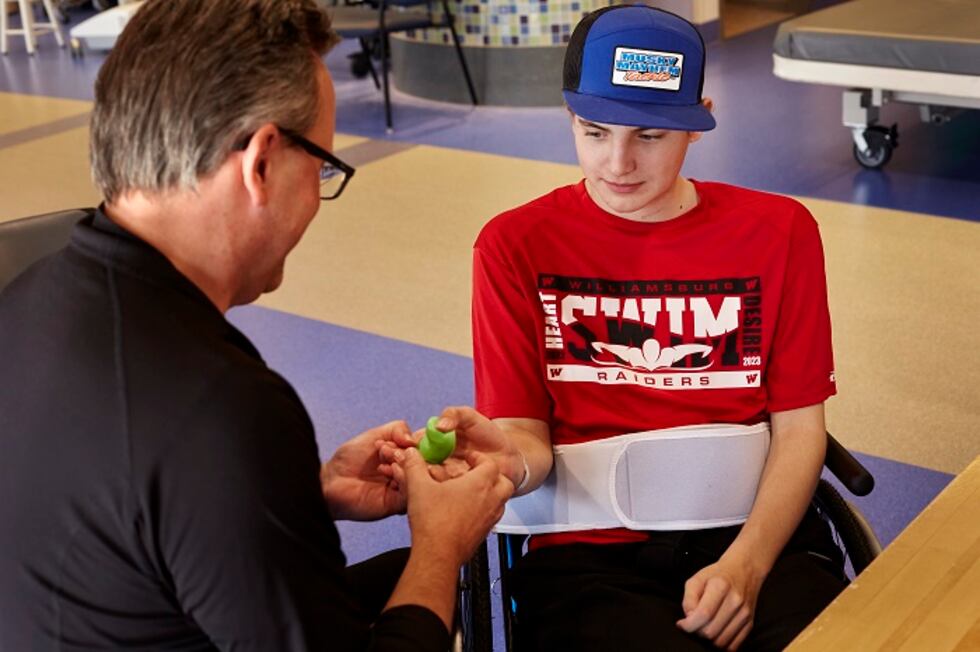 Sponsored - The following content is created on behalf of UnityPoint Health - St. Luke's Hospital and does not reflect the opinions of Gray Media or its editorial staff. To learn more about UnityPoint Health - St. Luke's Hospital, visit https://www.unitypoint.org/.
On a hot Iowa summer day, Nathaniel Crow was doing what he's done hundreds of times - running and diving into his family pond outside of Williamsburg. The 17-year-old had finished work and wanted to cool off.
"I ran down the hill and did a racing dive into the water," explained Nathaniel. "It's a very shallow dive and when I came up, I couldn't move my legs." Thankfully, his 13-year-old brother, Nelson, was swimming with him that day and noticed Nathaniel was struggling. He dragged his brother to shore.
"Nelson saved his brother's life," said Lisa Crow, the boys' mom. "Nathaniel would've drowned if his brother wasn't there. Nelson ran back to the house and told me that Nathaniel couldn't feel his legs." Lisa and Nelson ran to Nathaniel, who was laying on the beach.
"As I was making my way to Nathaniel, I thought to myself that he had worked outside all day, in over one-hundred-degree heat, so I thought it was something heat related," shared Lisa. "As soon as I got to Nathaniel, I determined quickly it wasn't related to the heat, and it was serious. I called 911."
Acute Spinal Cord Injury
Nathaniel was transported to the hospital where it was determined he sustained an acute spinal cord injury to his C6 vertebra. He had two surgeries; the first to remove the pressure to his spinal cord caused by the broken vertebra, and the second to implant titanium rods for stabilization commonly known as a spinal fusion. "When Nathaniel came to us at St. Luke's Physical Medicine and Rehabilitation (PMR), he was essentially a quadriplegic," recalls Kevin Komenda, St. Luke's PMR senior physical therapist. "He had no leg movement. He would lose his balance sitting because he didn't have the strength to sit without support. It was initially total assistance for all mobility. This is typical for someone who has had a cervical spinal cord injury. The interesting thing about Nathaniel was even with his challenges he could still feel his feet. He was able to tell during one of our tests if his toe was pointing up or down, so that sensation was getting through his spinal cord injury to his brain. That's rare. It gave us hope that the signal from the brain to the muscles to move would get through as well."
"It was hard to watch when Nathaniel first arrived at St. Luke's how little he could do for himself," recalled Lisa. "I remember thinking we had a long way to go for him to be independent, but he put in the work every day, for hours at a time, with physical, occupational and recreational therapy. There were days he'd have a bad night and not sleep well, or he'd wake up screaming in pain and I would say to the caregivers, 'I don't think therapy is happening today' and then half an hour later he would say, 'let's go.' He put his mind to working hard and walking again."
Regional Rehabilitation Leader
St. Luke's is the regional leader in rehabilitation. The care team is made up of physiatrists, doctors that specialize in physical medicine, and rehab and psychology providers, along with nurses and therapists who work with the patient and family on an individualized plan that allows them to meet their goals.
"Within two weeks after Nathaniel arrived at St. Luke's PMR we started to see significant progress," shared James Pazour, St. Luke's PMR senior occupational therapist. "His progression and transition between mobility devices in a short time doesn't happen very often. I've been doing this job for nearly 30 years, and you rarely see this level of improvement. It's been incredible to see." "Things started really coming around for Nathaniel and almost daily he was able to move something new, do something different, grow stronger and with less pain," explained Komenda. "We let him lead and challenged him each day. It has been awesome to be a part of his recovery."
"We had this strong hope that someday Nathaniel would walk again but at the pace it happened I had no idea,'" said Lisa. "All the therapists at St. Luke's were great and it was amazing watching his rapid progress and the work that went into it. For us the most important part of Nathaniel's recovery has been the work of God. It's the reason we never felt consumed and always had peace and hope through our strong faith in God and prayers from literally thousands of people across the world and the outpouring of support from our wonderful community." After spending three months at St. Luke's PMR Nathaniel was able to walk out of the hospital. He continues his recovery in outpatient therapy at St. Luke's and has returned to Williamsburg High School where he joined the archery team and is returning to competitive swimming this season.
To learn more about St. Luke's nationally recognized Physical Medicine and Rehabilitation Center, call (319)369-7331.