'We will find you': Mollie Tibbetts' mother speaks out as search efforts continue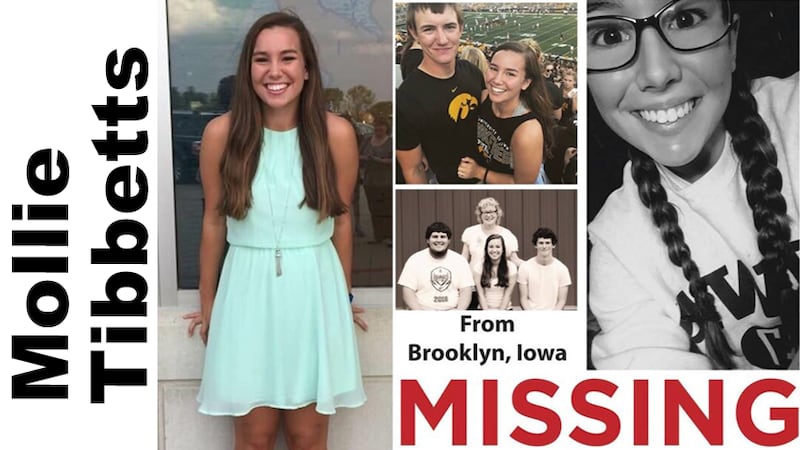 Published: Aug. 1, 2018 at 7:32 AM CDT
Investigators said in a news conference Tuesday that they have followed roughly 200 leads in the search for 20-year-old Mollie Tibbetts.
The University of Iowa hasn't been seen or heard from in almost two weeks, and search efforts have brought few answers.
The Poweshiek County Sheriff said there is no new information in the case.
"We can't tell you why Mollie is missing," Iowa Division of Criminal Investigation Director Kevin Winker said.
Tibbetts' mom, Laura Calderwood, said she knew right away something was terribly wrong when her daughter didn't show up for work July 19.
Calderwood said waiting and worrying about the unknown for 13 days feels like torture.
"It is just an emotional roller coaster," she said.
Calderwood said she can't look anywhere in her hometown of Brooklyn, Iowa, without seeing her daughter's face on a missing person poster.
"It's a reality check every time I see one of those posters," she said. "It's like, 'she's gone!'"
Calderwood said Tibbetts was seen out on a jog around 7:30 p.m. July 18.
"To the best of my knowledge, I believe she did make it home from the run and was in (her boyfriend's) home," she said.
Family members said that evidence shows Tibbetts was doing homework on her computer after her jog. Authorities will not confirm or deny that, saying they do not want to reveal too much information.
As the investigation continues, Calderwood said cannot understand why anyone would want to hurt Tibbetts.
"She has so many people that love her, and that's what I don't understand. Who would want to hurt her or any of the members of our family?" she said.
Calderwood said that while many questions remain unanswered, she is determined to find her daughter.
"The first night she went missing, I was distraught," Calderwood said. "I knew her phone was dead, but I sent her a text saying, 'I love you. We're looking for you. We will find you no matter what.'"
Crime Stoppers of Central Iowa has offered a $1,000 reward for information leading to an arrest in the case or the discovery of Mollie Tibbetts. The TIP Rural Electric Cooperative in Brooklyn has agreed to match that reward, for a total of $2,000.
Authorities continue to ask for the public's help and say no information is too trivial. Anyone with information is encouraged to call (641) 623-5679 or email tips@Poweshiekcosheriff.com.
View the original story on
.