UI students suggest natural, cost-efficient plan for city park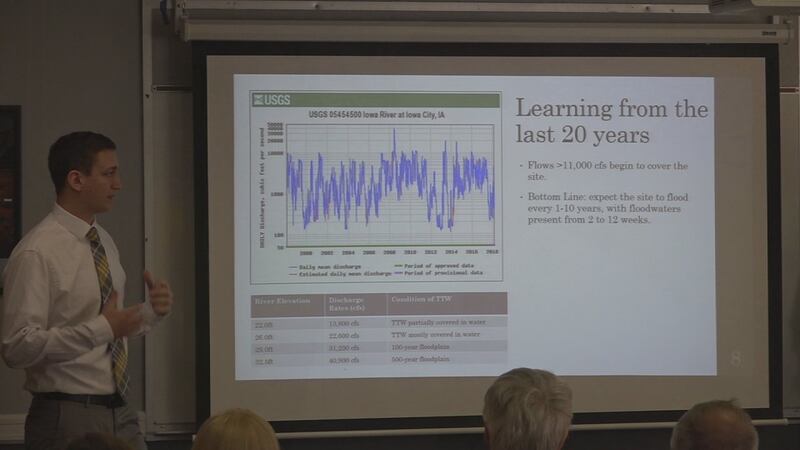 Published: May. 2, 2018 at 5:53 PM CDT
A park that can take care of itself. It's an idea for a plot of land next to the Terry Trueblood Park in Iowa City.
The University of Iowa's Urban and Regional Planning Department has been studying the area and it thinks taking it back in time is the right plan for the future.
"We're talking pennies on the dollar for something that, if you were going to come in and clear cut the sight completely, it would cost you thousands of dollars and this would cost much less than that," said University of Iowa Student Kevin Englebert.
The group says the city will save money by making the area more resilient and returning it to what it was like hundreds of years ago. The students say research shows this will also reduce the flood risk and make it less vulnerable to climate change.
"Very thoughtful," said University of Iowa President Bruce Harreld. "It's taking what's there and making sure that it's respectful floods that we have, the environment that we're in."
They want to bring in native plants and trees as well as a trail to people connect to nature in its most natural state. It's a plan the city leaders support.
"It's consistent with the master parks plan, I don't know nine months ago and there's a lot of creative ideas embedded," said Iowa City Mayor Jim Throgmorton.
The University president says the fact that students are coming up with the idea is a point of pride.
"We tend to look at universities just as places where we have students sit in a classroom and listen to someone lecture," said Harreld. "The real issue is we're trying to prepare them for lifelong learning and that's also seeing what's going on."
The group wants to build the trails within two years but changing the ecology of the site will be done incrementally over the next decade or two.