NAMES RELEASED: Two rescued after vehicle crashes into river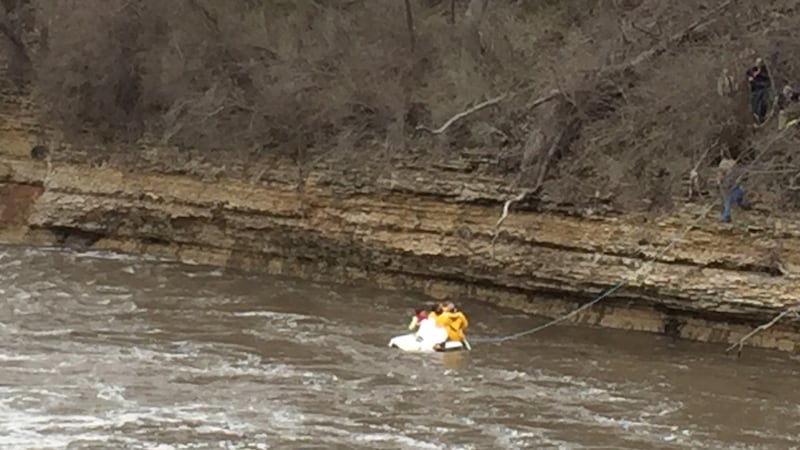 Published: Apr. 5, 2017 at 3:16 PM CDT
Authorities say 86-year-old George Balekos of Monona was trapped inside the fully submerged truck, along with 54-year-old Valerie Timmerman. Both were transported by emergency crews to Central Community Hospital. Officials say Balekos was transported by helicopter to University of Iowa Hospitals and Clinics, and Timmerman was treated and released without serious injury.
The cause of the accident is still under investigation.
_______________
PREVIOUS STORY
Volunteer firefighters rescued two people after a vehicle crashed into the Turkey River in Elkader
The Clayton County Sheriff's Office says the vehicle went into the river Wednesday afternoon near High and Bridge Street. Elkader firefighters were able to pull two people from the vehicle. An ambulance took both to the hospital.
The truck was almost submerged when volunteer firefighters got to the scene.
Volunteer firefighter Caleb Shea says the current was moving fast.
"It was a pretty good drop off, so I jumped on it and went in there," Shea said, "I went in first. He was still in the truck. The man was still in the truck when I went after him."
The current and the location of the dam made for a tough rescue,
but he and another firefighter managed to get the driver and passenger to safety.
"We got them out, and that's the most important thing. It could've been a lot worse," Shea said.
Shea says it was their first time using insulated water rescue wetsuits.
He says it would have been a lot more difficult without them. The department just got the suits earlier this year.
"It would have been extremely cold for myself and Corey in the water without it, so we are grateful that we have that and very grateful that we actually trained on it," Shea said.
The son of the truck driver says his 85-year-old father is in the intensive care unit. He says the passenger in the truck is the caregiver.