Some Johnson Co businesses in favor of higher minimum wage, employees feel the benefits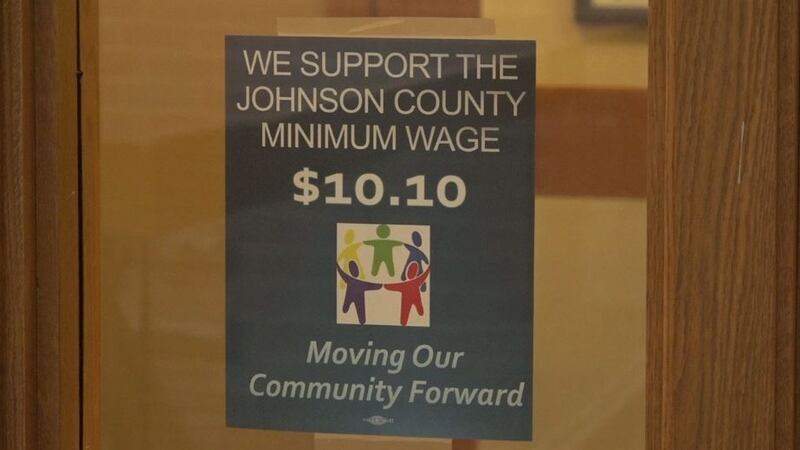 Published: Mar. 20, 2018 at 6:11 PM CDT
Johnson County supervisors want businesses to raise their minimum wage to $10.27 an hour.
They can't require employers to comply since the governor's office mandated a statewide $7.25 minimum wage last year. Before that, Johnson County had raised its hourly wage to $10.10 an hour. One man said the higher wage makes a big difference for his family.
Markess Wright works full time at the Bluebird Cafe in North Liberty. He said he couldn't live off $7.25 an hour.
"I wouldn't be able to pay my rent on time if I didn't make this much money. My child would still be sleeping on an air mattress. I wouldn't have a car," said Wright, a line cook at the Bluebird Cafe in North Liberty.
He said he's glad his boss supports a more livable wage.
"Then when I came here I just felt welcomed with open arms," said Wright.
"The minimum wage increase we thought was long overdue so when it went up in Johnson County we had no problem with it. We were on board," said Jonathan Wilson, a co-owner at the Bluebird Cafe.
Wilson said there's a balance with paying employees more and having to raise his prices.
"It's good for the county. Hopefully people are moving here because wages are higher here and expanding the labor base and the customer base so it's just growing the community," said Wilson.
Some businesses said they can't afford to raise their minimum wage. Others said it's unfair to those who have been working longer for less, but supervisor Mike Carberry said it's necessary to keep up with inflation.
"They're living hand to mouth and they're spending every cent they get and they're spending it locally," said Carberry with the Johnson County Board of Supervisors.
Carberry said the need for a higher wage partially comes from having the highest cost of living in Iowa.
"It's a great place to live but it's also an expensive place to live and people deserve more money for a hard day's work," said Carberry.
"If I was getting paid $7.25 I couldn't do what I've been doing now with my son and what I've been doing to fix my life up," said Wright.
The supervisors will discuss the change at a work session on Wednesday. If approved, it would take effect on July first for any business that wants to take part.