Small Eastern Iowa town houses state's largest solar farm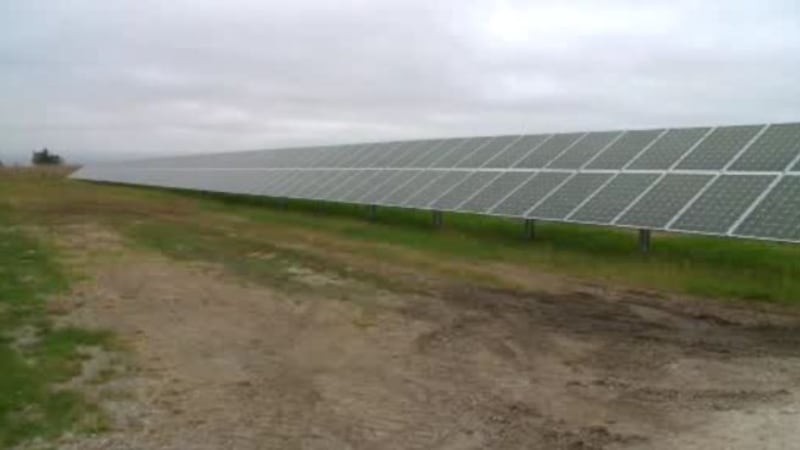 Published: Oct. 13, 2016 at 7:22 AM CDT
A small town about 120 miles east of Des Moines now has one of the biggest solar farms in the state.
A 9-acre solar farm in Kalona will generate enough energy to power some 200 homes in the town, which is also a major provider of eggs in nearby grocery stores.
Just over 1 million eggs are processed every day at Farmers Hen House in Kalona, then shipped to grocery stores across Iowa.
"All of our electricity that we're using for our coolers, for our machines (and) all the electricity we use in the building comes off the solar farm," Farmers Hen House co-owner Ryan Miller said.
Farmers Hen House is part of the Farmers Electric Cooperative, which uses energy from the solar farm located about 200 feet from its front door.
It consists of 40 rows of solar panels capable of storing energy on sunny and cloudy days.
The panels capture energy from the sun, and that energy is converted to usable energy for homes and businesses.
It will likely take years before anyone sees a drop in their energy bill, but the co-op's general manager Warren McKenna said lower bills are not really the point.
"We'll produce our power here locally," McKenna said. "The money stays here and gets injected back into the community."
The first 4.5 acres of the solar farm were built two years ago.
The co-op is now investing $1.2 million in having Iowa Wind and Solar double the number of solar panels. Together, it will produce about 2 megawatts of power.
"It's a combination of the federal and state credits that have come up and (with) the falling price of the solar modules, it's just become a wise choice," McKenna said.
Construction is expected to wrap up in about two weeks.
Iowa Wind and Solar said Iowans using solar energy save a total of around $300,000 to $400,000 every year.