Senator Joni Ernst Hosts Senate Hearing in Dubuque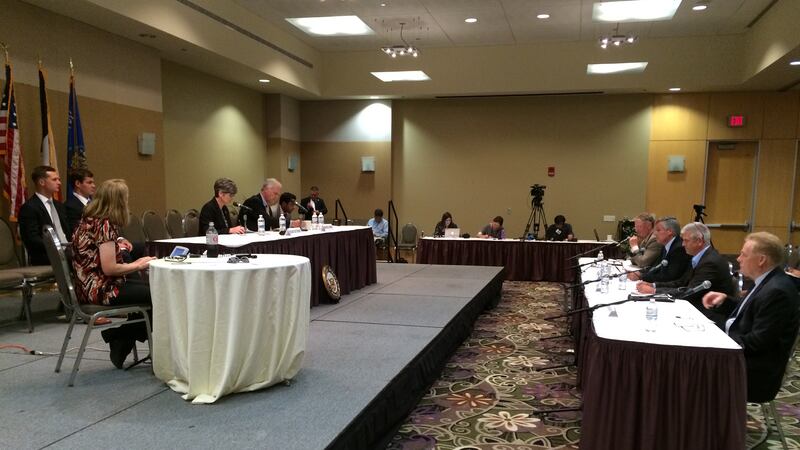 Published: Aug. 17, 2016 at 5:36 PM CDT
On Wednesday, Republican Senator Joni Ernst took part in a Senate field hearing in Dubuque on called "From Crop to Craft Beer". It gave people a chance to learn more about how federal regulations impact farmers in eastern Iowa.
The Senators said that topic impacts all Americans as an average American household spends almost $15,000 each year to comply with federal regulations.
Ernst and Republican Senator Ron Johnson of Wisconsin set up shop inside Dubuque's Grand River Center.
"If we are putting rules and regulations in place, they need to make sense. They need to be science based," Senator Ernst said.
The pair took questions from the media before making opening statements. The Senators listened to testimony from agricultural business leaders.
The panelists spoke of how, they say, some unnecessary government regulations on things like anhydrous ammonia are forcing businesses to cut jobs or even close. They talked about how some specific F.D.A and O.S.H.A regulations are impacting their company's bottom line.
"Every time I turn around, I am adding additional company resources to try to get things done. When if the individuals could be held accountable through all the systems. It could be a lot less overhead, "said Rick Vaughn, C.E.O. of Innovative Ag Services.
Fewer than a dozen people came to listen to the hearing, but said it was interesting to hear everything the federal lawmakers had to say.
Charles Miehe of Belmont, Wisconsin said, "People can hear them and understand what they are saying. Otherwise you get little blips on the TV and you really can't form a good opinion. "