'Secondary migration' brings refugees to Cedar Rapids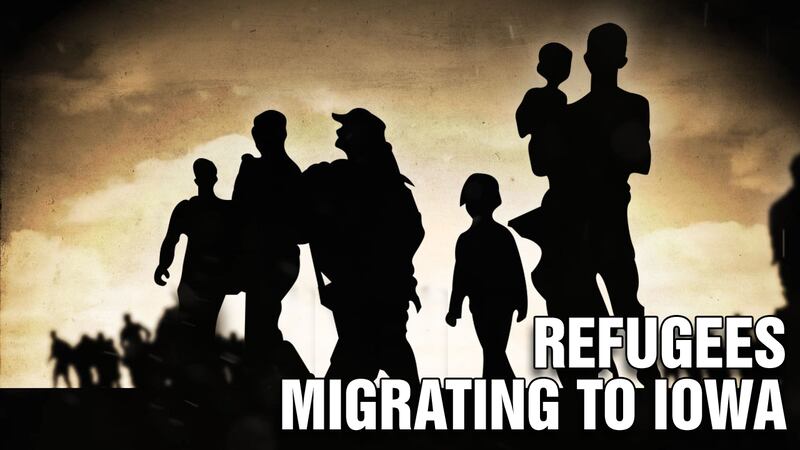 Published: Nov. 14, 2016 at 3:41 PM CST
More refugees are settling in Iowa each year, but they're not all coming straight here.
Iowa resettled about 1,000 refugees in the past year. All of them were processed in either Des Moines or Cedar Rapids. Catholic Charities is the local affiliate that does the work In Cedar Rapids. The organization accepts about 100 refugees a year. But that number doesn't include the many more refugees who come to Cedar Rapids from other states -- a phenomenon in the refugee community called "secondary migration.
shows how many refugees each state settled from October 2015 – September 2016:
Iowa has a long history of welcoming people from far away countries who can't return home because of violence or political persecution. Governor Robert Ray, a Republican, led the nation in welcoming 1,500 so-called "boat people" after the Vietnam War.
Today most of the refugees seeking a new life in Iowa are from
. But in Cedar Rapids, the greatest influx is from the
, a region that has seen the world's bloodiest conflict since World War II. Six million people have died and the area is still unstable.
KCRG-TV9 talked with a handful of refugees who now call Iowa home and why so many are choosing Cedar Rapids.
Frank Bilari is eight years old and barely remembers living in Kenya. He experienced upheaval and uncertainty then.
"When I was living at another house I was going to school, but when I come to that new home I didn't go to school," said Bilari.
Bilari is now a third grader and has been in Iowa for two years. He works on his English skills with a special teacher at Hoover Elementary in Cedar Rapids. Students at Hoover speak more than 19 different languages. English isn't Frank's second language, it's his third, and his favorite.
"I like English because it's better and because my friends speak English and I want to talk with them," said Bilari.
Miriam Namwenda has only been at Hoover Elementary for two months.
"My family speaks Swahili and French," said Namwenda.
Namwenda's family lived in the Democratic Republic of Congo, where most people speak French. Before coming to Iowa, she lived in North Carolina.
Coming to Iowa after resettling in another state is something of a trend people like Caleb Gates of Catholic Charities in Cedar Rapids is noticing.
"In the last five years or so there's been a bit of an influx of secondary migrants. When they first came here they came to another state, but then they come to Iowa," said Gates.
Those secondary migrants often come to Iowa looking for work.
That's what motivated Tambwe Kitungano to leave Missouri, after he resettled from the Democratic Republic of Congo.
"Life in Missouri was not easy, I couldn't find employment but a friend told me about opportunities and I moved to here," said Kitungano.
He came to Cedar Rapids and landed a job at Tyson Fresh Meats packing plant in Waterloo. He commuted with other refugees and split the cost of gas at the end of each week. Then Kitungano worked at Nordstrom in Cedar Rapids. But now he's out of work and says it's hard to find employment because he didn't go to school after sixth grade.
As a child in Congo, rebels murdered his entire family and he escaped with a neighbor to bordering Tanzania.
"Life was very hard for me because I didn't have any parents. We ran together to Tanzania, they were really nice and welcomed us but we were not independent," said Kitungano.
Kitungano came to a quarterly African Community meeting at Hoover elementary in Cedar Rapids to try and find help getting a job. He'd love to be a cop, but he won't take the citizenship test until April, and he needs work now.
"When we come to this country everything is new for us. It's very important to learn the landscape. Get your education because there are a lot of challenges when you don't get your education," said Kitungano.
Clint Stone is the principal at Hoover, and pushing his diverse student body to academic excellence includes addressing the pain some refugee students carry from witnessing war.
"We certainly have kids who've faced a lot of different trauma. Physical, trying to escape unsafe situations with their families through Abbe, Tanager, and our own counselor here on site," said Stone.
Up until the presidential election, Cedar Rapids was poised to open another resettlement center to welcome about 75 refugees in its first year, starting in January.
But with Donald Trump's victory on election day, things have changed. The Catherine McAauley Center in Cedar Rapids, which was planning to open an affiliate resettlement office through the U.S. Committee for Refugees and Immigrants, has put that plan on hold. It's not clear what a Trump presidency means for refugees coming to the United States, but he did campaign on restricting the program from certain countries.
____________
The following resources provide insight into refugees in the U.S. and how a Cedar Rapids charity supports primary and secondary migrants: