Prank turns real with holiday help for dozens of families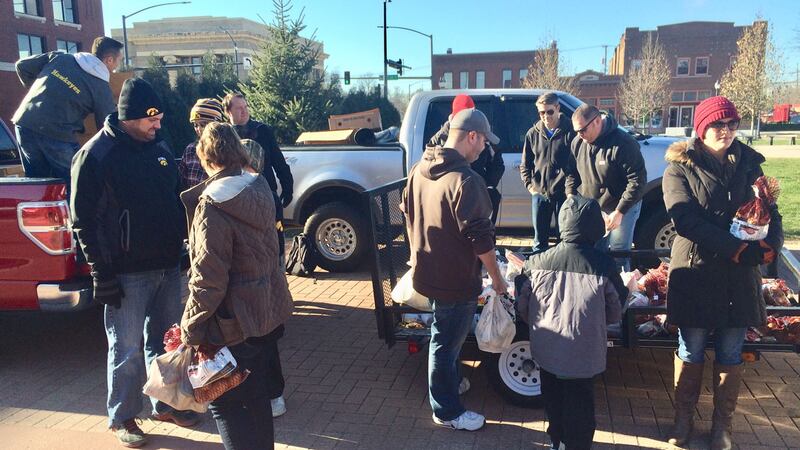 Published: Nov. 22, 2017 at 4:09 PM CST
What began as an internet prank wound up helping dozens of Cedar Rapids families afford a holiday meal on Wednesday.
Organizers call it Operation Give Birds and what started as an online joke began a reality,
It all began when someone posted a notice on Craigslist about Austin Hermsen and his wife. The notice said the Hermsens had 30 turkeys to give away to anyone who needed one and gave a phone number to call.
None of it was true.
But when the victim of the prank started getting calls from people and heard the stories about needs during the holiday season he wondered if he and his friends could do something.
So the prank became a real event to benefit those in need.
On Wednesday, organizers brought a trailer filled with turkeys and holiday foods to the NewBo City Market and passed out food bags to those who had requested help.
The idea that began as a prank drew about $1,400 in total donations. That was enough to feed 80 families.
One recipient, Amy Raygor, appreciated the helping hand.
"We've kind of struggled this year, the kids father and me, with jobs and what not," she said.
When asked what she would have served on Thanksgiving without the food basket, Lisa Brown replied "probably just sandwiches."
Hermsen wasn't around for the event due to a Thanksgiving week trip planned beforehand.
But instead of getting mad about the fake notice on Craigslist, put there by a co-worker, he convinced friends to help him put together a real holiday giveaway.
One co-organizer, Nick Dusil, says it really wasn't that hard.
"The money just started flowing in and I thought we might get 200-300 bucks, buy 10-15 turkeys and hand them out. It just kept growing and growing and here we are providing meals for 80 families," he said.
And Operation Give Birds may turn out to be the joke that keeps on giving. Dusil says those involved are already talking about plans to do it bigger and better next Thanksgiving.