Planting a billion milkweeds for monarchs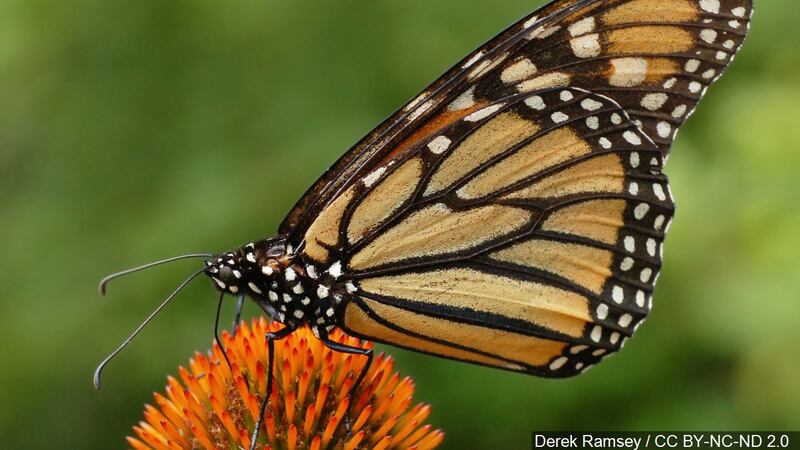 Published: Mar. 14, 2018 at 6:14 AM CDT
The Iowa Monarch Conservation Consortium has set new goals for monarch butterfly habitat in the state.
By 2038, the Iowa Department of Agriculture and Iowa Department of Natural Resources (DNR) want to have 480,000 to 830,000 acres of habitat across the state or about 127 to 188 million new milkweed stems, which is the only plant monarch butterflies lay their eggs on. The goal is to plant about double the amount of milkweed that is estimated to exist in Iowa.
This is only a part of a national effort to get 1.3 billion new milkweed stems on the migratory path of the Monarch from the border of Mexico to northern states.
Iowa DNR Director Chuck Gipp says all Iowans will have to chip into the initiative. The Monarch is on the verge of being put on the endangered species list, their population has dropped by 80 percent in the last 20 years.
Gipp says without the update and action, it could get listed and Iowan landowners would have to abide by national laws, "Then it becomes mitigation. The Endangered Species Act has tremendous impact on private land ownership. And so we don't want to get at a point as a partner with DNR with our other partners out there, we don't want to get to the point where there is no choice but to do this then it becomes mandated under the endangered species act. We'd rather have voluntary participation."
Gipp adds to get voluntary participation, there has to be education.
Monarchs are both a pollinator for plants across the nation but also a food source for other animals.
The Monarch is migratory, so it doesn't need a wide swath of land to live. It needs small plots across the U.S. in order to move around.
It is a lot to ask farmer to plant milkweed, which is a weed, so Gipp recommends poor quality land that wouldn't grow crops well.
He says, "A headland, where you don't want to plow up and down the hill to crop anyway because you want to have grass waterway there. That can suffice not only for erosion control or water quality control but now be the host area for Monarch species plants that are necessary for their propagation."
Gipp says if there are any questions on how to get involved in helping the Monarch Butterfly, one of the best sources would be Iowa State University.
You can see the full draft of the Iowa Monarch Conservation Consortium updated strategy
.