Pay-it-forward cafe now open in Cedar Rapids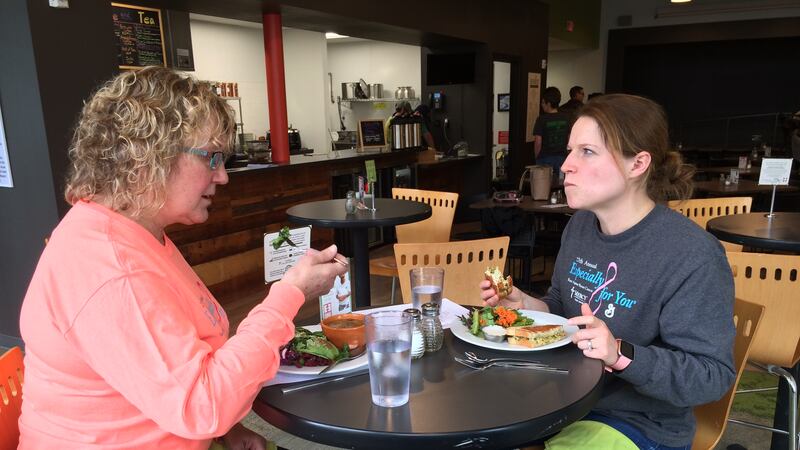 Published: Oct. 5, 2018 at 4:25 PM CDT
Would you pay a little extra for a meal if it meant someone less fortunate could enjoy fresh food without needing to pay? That's a question the Matthew 25 nonprofit group in Cedar Rapids is trying to answer with a new café.
And the Groundswell Café will also go a bit farther with the farm to table concept becoming popular at some restaurants. Instead of just bringing food from local farmers to the table Matthew 25 also plans to grow a portion of the food served to customers at the café.
The nonprofit group has operated an urban farm, or community garden, in northwest Cedar Rapids for years. But some of that produce will now have a new home at the group's new café less than a mile away.
Right now, diners will find a handful of late season vegetables served in the café dishes. But Linda Butler, the volunteer coordinator and chef, says at the height of the summer growing season, the amount of produce both grown and served by Matthew 25 may approach 50 percent.
"We don't want to buy up all the product from that urban farm. We want some of our neighbors to buy it, that's part of our mission to provide healthy foods," she said.
Another part of the mission is to provide healthy eating opportunities for people who might not be able to buy fresh or organic produce, which usually costs more. That's where café customers will come in.
The café is encouraging diners to overpay the bill a bit. So when someone comes in who can't afford the price of soup, salad or sandwiches—the amount is already covered by someone who paid it forward.
One diner on Friday, Rachel Hahn, says that concept appealed to her.
"I think that's an amazing proposition. I think that fresh food is hard to get when you are in that situation," Hahn said.
Café operators say so far nearly every customer has left a little extra to help feed someone who couldn't afford it.
And the farm to table idea is coming even closer to the kitchen soon. Matthew 25 is constructing an indoor hydroponic area to grow lettuce and herbs during the winter literally just steps away from the new café.
The Groundswell Café, located next to the Matthew 25 offices at 201 3rd Ave. S.W., opened a week or so ago to test how things will work.
An official grand opening is set for Monday, October 8th. The café hours are 9:00 a.m. until 2:00 p.m.