Painting believed to be worth millions found in Des Moines closet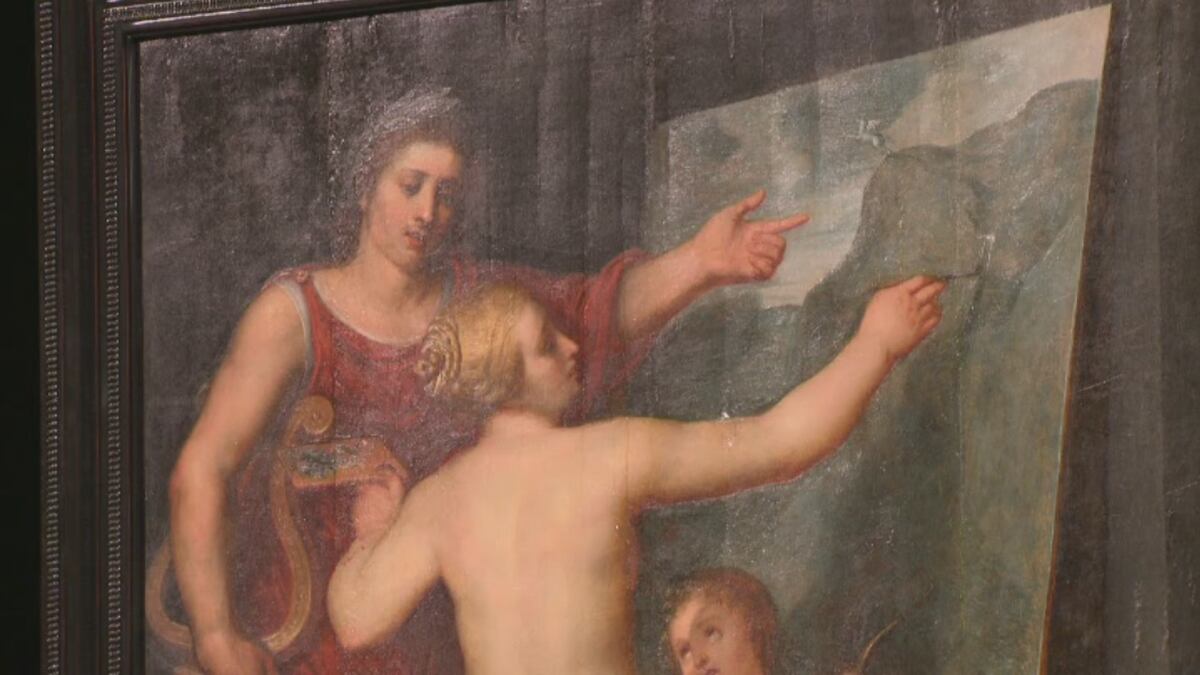 Published: Apr. 2, 2018 at 11:46 PM CDT
A Des Moines art center, by sheer luck, found a masterpiece stashed in a closet
"Two years ago, President's Day weekend, I was looking for some civil war flags," said Robert Warren, executive director of Hoyt Sherman Place.
Warren found the painting in the flower closet on the balcony level, tucked between a table and the wall. Belgian master Otto Van Veen painted "Apollo and Venus" in the late 1500s.
"I noticed the bottom half of Apollo and Venus. Pulled it out from behind the table and noticed on the back of it there was an auction sticker," Warren said. "I was a little surprised because it`s a wood panel painting. I didn't really know much about it until I looked at the back of it and I could see the webbing and then the contents of the front was so badly damaged and there were water stains on it, in a room filled with junk. I had no idea that it was as valuable as it turned out to be."
The painting's exact value remains a mystery.
"Otto van Veen, the artist, is in every major museum, the Louvre, the Portrait gallery, the Rubens estate, and the paintings that have been sold have been valued between $4-million and $17-million."
Warren said there are no plans to sell the painting. Instead, it will be displayed as part of the permanent collection in the Hoyt Sherman Gallery.
"We have a spot picked out for it. We're just in the process of finishing the installation," Warren said.
As to why the painting has remained hidden away all these years, Warren said he believes the content of the painting was simply too risque for the Des Moines Women's Club when they received it in the early 1920s.
"Apollo has his tunic lifted up, exposing his thigh. Cupid is in there with her arrow. The mountain of love is what's she's painting and he's feeding her a tray of oysters, so it's very suggestive. There's jewelry dripping all over the furniture so in that era it was symbolic of before you rose to Heaven you had this earthly epiphany of your soul, and nudity was the beauty that led you to eternity."
A conservator in Chicago helped restore the painting.
"Apollo and Venus" was displayed at New York's Metropolitan Museum of Art in 1800s. The family that owned the painting later moved to Des Moines and donated it to the Woman's Club.