Our Town Tipton: Bakery ships pastries around the world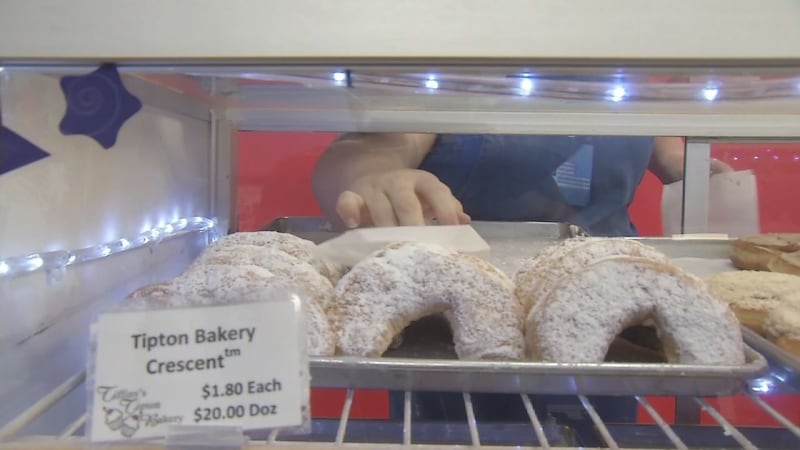 Published: Jul. 14, 2017 at 4:32 PM CDT
If you head to downtown Tipton, one business you have to visit is an 89 year old bakery in Our Town. It has one special treat that it often ships to customers around the world.
Tiffany's Tipton Bakery carries the typical items -- doughnuts, fritters, and cinnamon rolls. But the one thing its known for is its crescent rolls.
These aren't ordinary crescents. It's a Dutch recipe that includes homemade cream on the inside with a topping of powdered sugar.
They've become so popular this 1,200 square foot shop ships the crescents to people around the world. Maps on the wall are full of pins that mark all the places the crescents have gone. Everywhere from Siberia to central China.
"A lot of them are through people who take them with them on vacation and things of that nature. But we do have people over Facebook, they order online, we have people ship them to them, things of that nature too," said Caitlin Boyle, an employee at the bakery.
With the crescents cruising to places around the world, Boyle tells us they follow a few steps to keep them as fresh as possible. They wrap them in plastic, put them into plastic containers, and then opt for priority shipping.
Despite the worldwide success, the shop still keeps a home town feel.
"It's kind of weird, we a lot of times know our customers by their order first, and then we learn their name later," said Boyle.
On average, the shop makes about 23 dozen crescents on Saturdays.
There's also a special time in March dubbed "Crescent Birthday." It's a time to celebrate the bakery's anniversary and thank the community for their support. During that time, the bakery made 5,000 crescents in a two day span.