Nearly 170 dogs found in inhumane conditions near Iowa and Minnesota border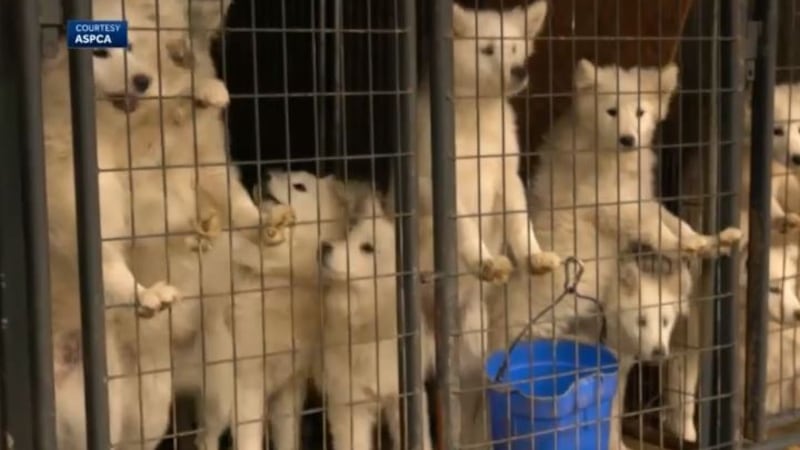 Published: Nov. 12, 2018 at 11:53 AM CST
The ASPCA (American Society for the Prevention of Cruelty to Animals) is helping the Worth County Sheriff's Office in collecting evidence, transporting, and sheltering roughly 170 dogs who were at an inhumane commercial breeding facility.
A search warrant for the "puppy mill" found the Samoyed dogs in overcrowded conditions with signs of neglect, with no access to clean water.
"We have tried to work with the individual in addressing the growing concerns about the welfare of her animals over the past several months and unfortunately met resistance," said Sheriff Dan Fank with the Worth County Sheriff's Office. "This is a large-scale breeding operation involving many animals, and we asked the ASPCA and their affiliates for assistance in removing them from the property and ensuring that they get much-needed care and treatment as we continue our investigation."
Authorities say many dogs were found in "filthy dilapidated kennels" in below freezing temperatures at the location near the north-central border of Iowa and Minnesota. Authorities say a few cats were also found inside the house with signs of neglect.
Tim Rickey, Vice President of ASPCA Field Investigations and Response, said local animal welfare groups were able to express their concerns to authorities, which led the Sheriff's Office to take quick action in launching an investigation months ago.
"We were able to support the case by providing expertise and resources to remove these dogs from this heartbreaking situation," Rickey said.
Police say the breeder previously was licensed through the USDA, despite giving the animals adequate veterinary care, food, shelter, and water.
ASPCA is helping transfer the animals to a temporary shelter where they will receive care until the court determines the custody of the animals.
The following agencies are supporting the ASPCA in the field and with its sheltering operation: Animal Rescue League of Iowa; Companion Animal Practices North America; Dubuque Regional Humane Society; Humane Society of North Iowa; Humane Society of Scott County; Nebraska Humane Society; Veterinary Centers of America (VCA); and Wichita Animal Action League.
Animal neglect charges are pending based on evidence ASPCA experts collect in support of the investigation.