Mom mourns loss of 18-year-old daughter killed in Cedar Rapids car crash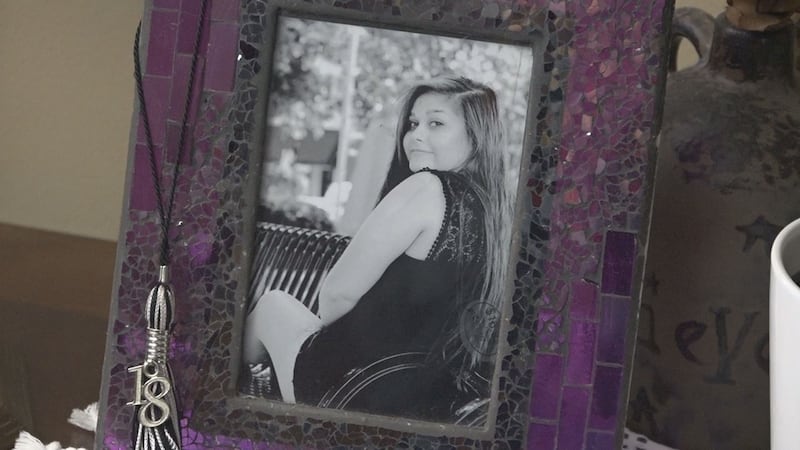 Published: Feb. 13, 2019 at 9:15 PM CST
An eastern Iowa woman is mourning the loss of her teenage daughter, Katie Miranda.
The Linn County Sheriff's Office said a slippery road caused Katie Miranda to crash early Monday morning.
Authorities said the 18-year-old lost control on a patch of ice near the intersection of Blairs Ferry and Feather Ridge roads. She crashed head-on into another vehicle and died at the scene.
The other driver suffered non-life threatening injuries.
According to witnesses, both cars involved seemed to be going at least five miles under the limit but sometimes that can still be too fast.
Kristie Ryza said her daughter was on her way back from dropping her sister off at school when the crash happened. Ryza said she knew something was wrong when her daughter didn't respond to her messages Monday morning.
"I wish she was still here," said Ryza.
"I texted her a couple times and called her. I said Katie don't make me come home for lunch. I'm going to be mad if you're sleeping and didn't answer. "
When she went towards town to look for Miranda, Ryza said law enforcement blocked off the street and asked where she was going.
"I said (to the sheriff's deputy) I live in Palo, I need to check on my daughter she hasn't responded," said Ryza. "Please don't tell me that's her car that's in that accident. Come to find out it was."
Miranda was pronounced dead on the scene.
"She just hit that one bridge and hit a patch of ice and did a little loop and car came and hit her on the right side," said Ryza. "It pinned her up against the rail."
Linn County Sheriff's Major Chad Colston said when winter weather gets bad, people may not be able to see the ice forming but it's still there.
"It was slick," said Colston. "Just standing on that you can tell that there was just a little bit of moisture and it was slick if you were standing on it. "
"Take your time," said Ryza. "Be careful on those bridges, I know I go to work at 4 a.m. and I'm the only one on the road half the time and I do 25 to 30 miles per hour. I don't go fast at all, those roads scare me."
Loved ones are grieving by trying to remember happier days, looking over old videos and pictures.
"Something about Katie just lightened up the room," said Ryza. "Her laugh. Her goofy laugh. Her annoying voice."
She was a graduate of Washington High School in Washington, Iowa, still working on her next steps.
"She was a lovable, caring person. I want her friends to remember her forever," said Ryza. "She's going to be missed a lot. She was my little girl."
Miranda's visitation will be this Friday from four to seven at Washington Mennonite Church in Washington. Her funeral will be at that church Saturday at one in the afternoon.