Mid-Michigan high school refs have started a new viral video challenge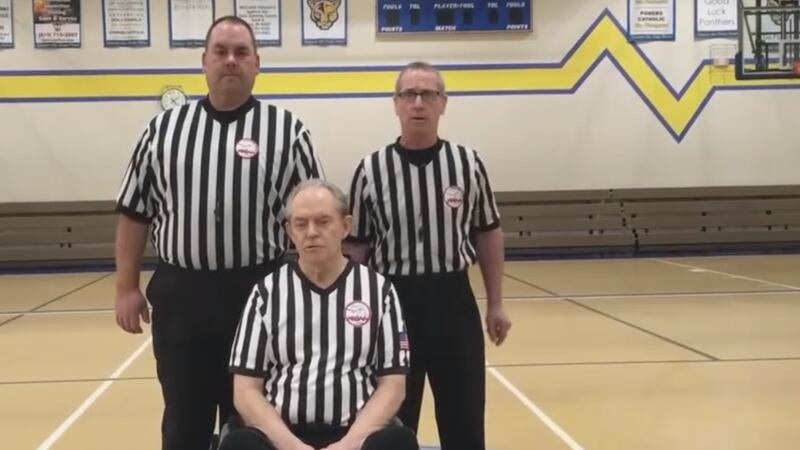 Published: Mar. 25, 2018 at 8:18 AM CDT
a new "Pray it Forward" challenge started in Mid-Michigan.
Now it's on its way to going viral, getting national views and attention.
"We're asking you to take a quick timeout just stop for a moment and pray for someone."
To get involved, these high school refs would like for you to post a video challenging someone else to do the same.
"And keep it going until our world is overtaken by the power of our prayers."
Steve Johnson and Judge Beagle started the challenge after visiting an Ohio doctor, who began praying for the two of them.
A couple of years ago Johnson was told he had only a few months to live.
"They had labeled it stage four cancer," recalls Johnson.
He says Dr. Issam Nemeh asked for a picture, so he could pray and begin the healing process and a miracle happened.
"I looked down at my chest, and you couldn't have taken a ruler and made a straighter line on a rectangle from armpit to armpit, which was soaking wet," Johnson said.
Like a good patient, Johnson did a follow up.
"They had to take another cat scan. When they took that CAT scan, there was no tumor," he told ABC12.
Judge Beagle says he's been seeing his progress in his health after being told he may never walk again.
"I am getting some feeling back and some movement. It's been slow, but it's been enough to keep me going back, and it's kept me being positive that someday it will happen, just got to be patient," Beagle said.
These three are looking to continue this movement by challenging others like the University of Michigan's head football coach Jim Harbaugh, the Chad Tough Foundation and GMA's Robin Roberts, a cancer survivor, to help spread the word by praying it forward.
This challenge isn't secluded to one religion either, both Johnson and Beagle say it's open to all faiths because there is power in numbers.