Made in Eastern Iowa: A Central City company on the move with mobile walls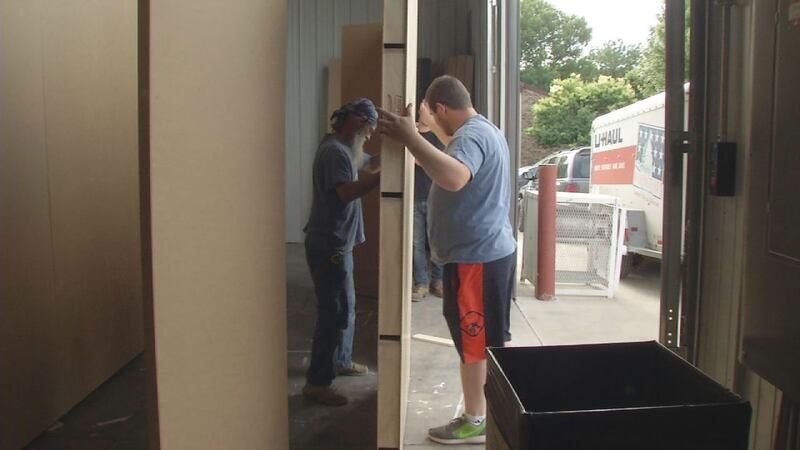 Published: Jul. 3, 2017 at 7:26 AM CDT
Kathlene Kyle spent time in a hospital five years ago and it was there an idea just came to her.
"My husband and I were in the ER and they were changing and updating things," said Kyle. "They had the Tyvek walls. I asked if these were used or in the dump and they said 'oh, we just throw those away'.
"I thought "well, that's such a waste". That's kind of how the idea was formed."
Now Kathlene is in the middle of a major move in Central City as her business, Pareti Mobile Walls, keeps growing a little more every few months.
"Right now, we still have some contractors and, hopefully, they'll be converted to employees and that can scale up to ten people," she said.
Pareti, which is Italian for walls, as Kyle is quick to note, has grown its client base outside of Eastern Iowa but it starting to get more of a foothold here as well.
"Locally, the (National Czech & Slovak Museum & Library in Cedar Rapids) is almost always using some in the inventory," said Kyle. "When the Czech Museum opened, that was our prototype. In their temporary exhibit, they usually have them featured. The Art Museum in Dubuque and the Grout Museum (in Waterloo). We're only starting to market in Iowa. Most has been outside of Iowa."
It's common to see temporary or mobile walls for conventions and trade shows, especially as the more advances walls can also have rooms for curves or other features that make them feel a little more... permanent.
"These were very, very new products," said Kyle. "In trade shows, you see these a lot. For architecture you don't, it takes a lot of time to create a curved wall. For a receptionist area or just have a cool floor plan, this can be in minutes and not hours."
A walk through her facility had Kyle demonstrate the work of three people around of the Pareti walls.
"Right now, everybody is filling nail holes," she explained. "They are entirely organic material so everything's put together with studs inside of those walls and they're nailed on. That's becoming a new product for people, too. Used as office partitions. In lieu of construction in an office, they'll do this. The walls are paintable. The graphics can be put on them."
With her trusty dog, Joey, near the office - "he's been in a lot of states with these deliveries" - Kathlene Kyle has been able to take an idea and make it, truly, her own.
"A lot of our customers look at these like LEGOs for adults. You can build it or change your mind."