UPDATE: Kearney, MO Police investigate reported sighting of Mollie Tibbetts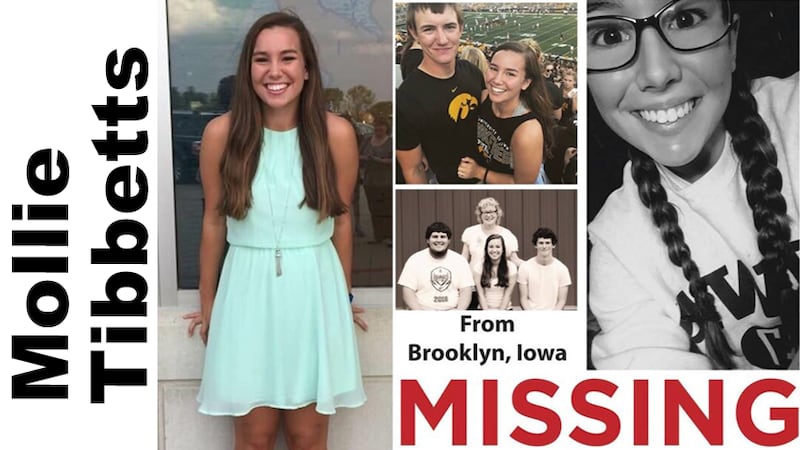 Published: Aug. 1, 2018 at 7:27 PM CDT
The Kearney, Missouri Police Department said Wednesday night it had investigated a possible sighting of Mollie Tibbetts there July 26.
Police were responding to a Facebook post in Omaha, Nebraska that has circulated on social media about a potential sighting in Kearney. The post referred to a truck stop, which police said is at Interstate 35 and Missouri Highway 92 in Kearney.
In a statement, the department said "officers conducted a thorough search, spoke with all possible witnesses, and reviewed all available footage. A report was sent to the investigation task force regarding this possible sighting."
Sgt. Joe Kantola told ABC News if Mollie had been sighted in any of the surveillance video officers reviewed it would have been included in the statement. Kantola also said only one person at the truck stop claims to have seen an individual who, according to the person, resembled Mollie.
Tibbetts was last seen jogging on the evening of July 18 in Brooklyn, a small Iowa town where the University of Iowa student had been living this summer. Her family reported her missing the next day after she didn't show up to work.
Dozens of local, state and federal agents are working to determine what happened to Tibbetts, but investigators said at a news conference Tuesday they still don't know what happened to her.
On Wednesday. The reward for the safe return of a missing University of Iowa college student jumped to $30,000.
Anyone with information for investigators should call 1-800-452-1111.