June is National Dairy Month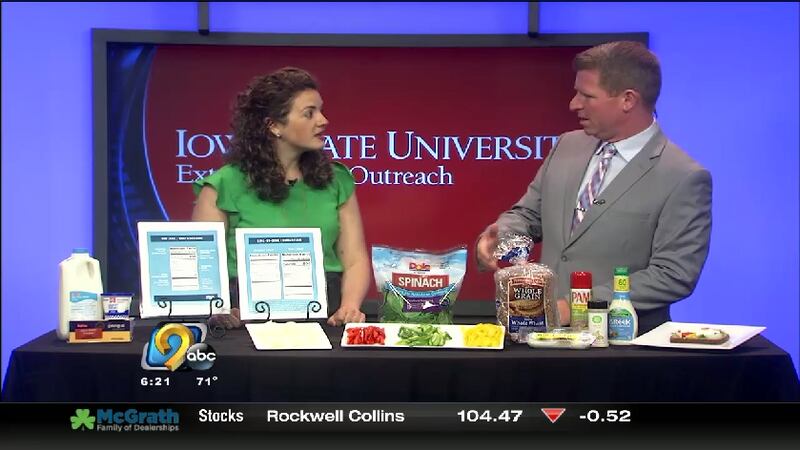 Published: Jun. 13, 2017 at 7:29 AM CDT
Iowa is 12th in the nation for milk production and Iowa's dairy industry generates four billion dollars a year in economic activity,
reports.
Milk provides you with nine essential nutrients, including three of the four nutrients of public health concern from the Dietary Guidelines for Americans – calcium, potassium, and Vitamin D. Adequate intake of these nutrients has been linked to chronic disease prevention by the Centers for Disease Control and Prevention.
Nutrition Facts Panel:
• Use the nutrition facts panel to help determine these nutrients of concern amounts in a particular product.
• Calcium is currently required to be on the label, and potassium and Vitamin D amounts are required to be listed on the label starting July 2018.
• The percent Daily Value (DV) helps determine if a serving of a food is high or low in a nutrient; less than 5% is considered low while 20% or higher is considered high.
Supreme Grilled Cheese Sandwiches
Ingredients:
• 1 cup peppers (red, yellow, or green) (1 medium)
• ½ onion
• 4 slices whole wheat bread
• 2 tablespoons light mayonnaise or salad dressing
• ⅛ teaspoon garlic powder
• 1 cup spinach leaves, rinsed
• 4 slices (3/4 ounce each) mozzarella cheese
• Nonstick cooking spray
Instructions:
1. Slice onion and pepper very thin.
2. Lay out four slices of bread. Spread each slice with the mayonnaise.
3. Sprinkle lightly with garlic powder.
4. Add in layers the spinach leaves, peppers, and onions. Add a slice of cheese.
5. Heat a skillet to medium low. Spray with cooking spray. Lay sandwiches in skillet. Cover with plate, lid, or aluminum foil.
6. Heat sandwiches until cheese melts (about 2-3 minutes) or until the bottom is golden brown. Serve.
Tips:
• You can use other cheeses, but mozzarella is lower in fat and melts well.
• Add other vegetables such as mushrooms and tomatoes.
Serves: 4 (1 open face sandwich/serving) | $0.86 per serving
Nutrition information (per serving): 180 calories, 8 g of fat (3.5 g of saturated fat), 15 mg cholesterol, 330 mg sodium, 3 g fiber, 10 g protein
This recipe is courtesy of ISU Extension and Outreach's SpendSmart. EatSmart.
.