Johnson Co. emergency responders practice for fiery plane crash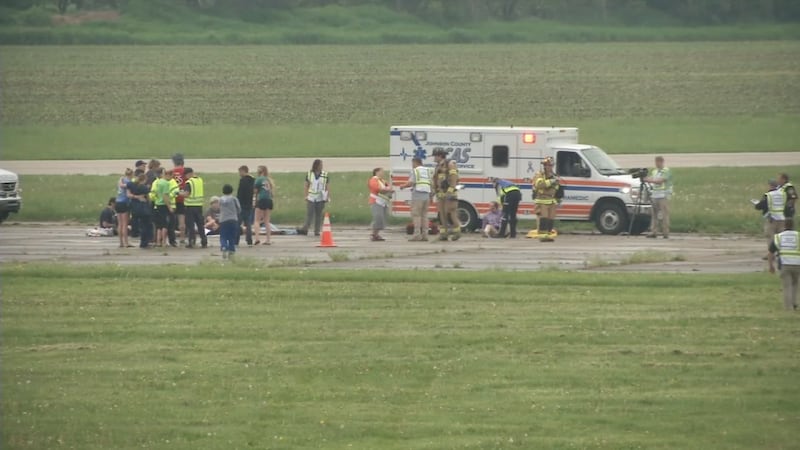 Published: May. 17, 2017 at 11:40 PM CDT
Wednesday morning, Johnson County authorities, as well as emergency and hospital workers, prepared for events like a firey plane crash that happened in New Jersey earlier this week.
While individual agencies practice on their own for extreme scenarios, Wednesday they had to work together.
"That integration of okay now how do we do it and how's our training exercise and planning all match up with how the fire department or the medical examiner's going to do it. That's really the key," said Dave Wilson, Johnson County Emergency Management Director.
The case involved a pretend inbound flight with 30 people onboard that had a fire in the cockpit and made an emergency landing. A car was used instead of a plane, but once the fire was out, triage started and people were sent to the hospital with full blown makeup and pretend injuries.
"We want to be able to track all those patients, make sure that we know who went to what hospital because we're also very concerned about the family members who are going to be looking for these patients," said Mike Hartley, University of Iowa Hospitals and Clinics Emergency Management Coordinator
While mannequins were used in the exercise, real life actors played an important role in the scenario. One of the actors said it was an enlightening experience.
"It was cool to see all the levels of triage and each responder's duty in that," said Allison Kusick of West Branch.
Some of the actors spoke in Spanish which made it more challenging. Hartley says it's helpful when responders know a second language.
"I tell you, having someone that's bilingual is gold for most agencies. That includes hospitals, EMS, fire. I know there's special classes that are offered for emergency responders who maybe aren't fluent in another language."
This was the first time Johnson County's annual disaster training exercise took place at an airport.