UPDATE: Johnson Co. bridge closing causing long detour, part of growing problem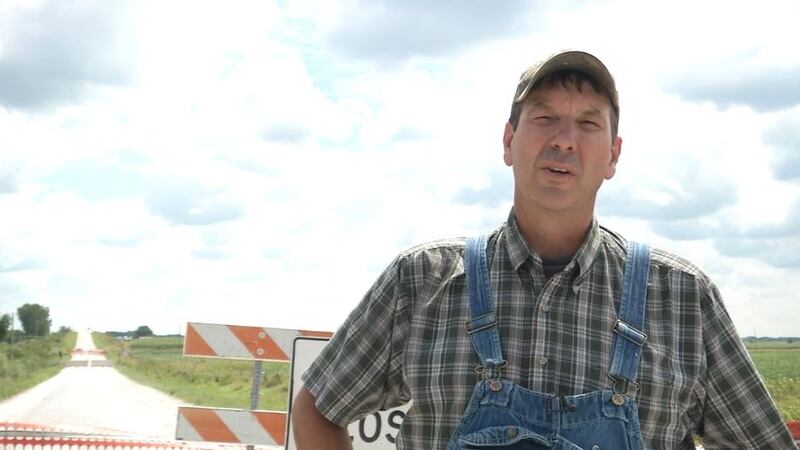 Published: Jul. 31, 2017 at 10:11 AM CDT
The closure of a deteriorating bridge in Johnson County is causing a pretty long detour and this is part of the growing problem in Iowa.
. That's more than any other state in the nation. It ranks Iowa second worst in the percentage of bridges with structural problems.
"It's going to be kind of a pain," said David Raim, a farmer in rural North Liberty.
People who need to cross a small bridge on Swan Lake Road now need to find another way across. It was scheduled to be replaced next year but the county says the bridge is too dangerous and shut it down now.
"We thought we had some time yet to get things figured out and we knew it was going to be a short period of time but when we found out it was condemned then that throws another wrench into it because of the time period that's involved," said Raim.
Now people like Raim have to take a nine mile detour for what was originally a one mile drive. That takes even more time when driving farm equipment.
"How are we going to get around now because we can't go north because of the Iowa River so we'll have to go through North Liberty I guess," said Raim.
Raim said he had to call for a police escort just so he could safely drive his huge farm equipment over a nearby overpass.
"It's going to take us longer to plan ahead to get all of our harvesting done and now we're concerned about what's going to happen in the fall when we have to harvest more stuff," said Raim.
This is a prime example of the issues facing so many of Iowa's rural bridges. Because Swan Lake Road doesn't have as much daily traffic, fixing it falls lower on the priority list.
"So you have to do a triage on what needs to be done. You rate the roads, you rate the bridges and you can only do the ones that are the most cost effective that year," said Mike Carberry with the Johnson County Board of Supervisors, "There's just not enough money to rebuild every bridge and every road on an annual basis. Our taxes would be so high I would lose my job in a heartbeat."
Raim said he gets it, but it's still a hard pill to swallow.
"There's a lot of people who use this road. It's very highly traveled," said Raim, "We like services too just like the next guy. We understand there's more traffic on the other roads but at the same time we like service."
Johnson County is trying some new ideas to help reduce the costs of bridge maintenance. They used an old railroad car as the support structure for a bridge east of Iowa City a few months ago. They said they are also considering using timber bridges as a cheap, short term solution in some locations.
_______________
PREVIOUS STORY:
A decade after a deadly freeway bridge collapse in Minneapolis, a study has found that thousands of Iowa's bridges are deemed structurally deficient.
The Des Moines Register reports that a
by the American Road & Transportation Builders Association found that almost 5,000 of the state's more than 24,000 bridges are rated as structurally deficient. That means one of the bridge's key elements - such as the deck, superstructure or substructure- is in poor or worse condition.
Most of those bridges are in rural areas and farming communities that see relatively low traffic.
State officials say a 10-cent-per-gallon state fuel tax increase enacted in 2015 will help fund improvements. The tax generates about $200 million for state and local road and bridge projects.
Johnson Co. has 3 of the most traveled structurally deficient bridges in Iowa. Linn Co. and Black Hawk Co. each have 2.