Generous donors make a new bike for disabled woman a reality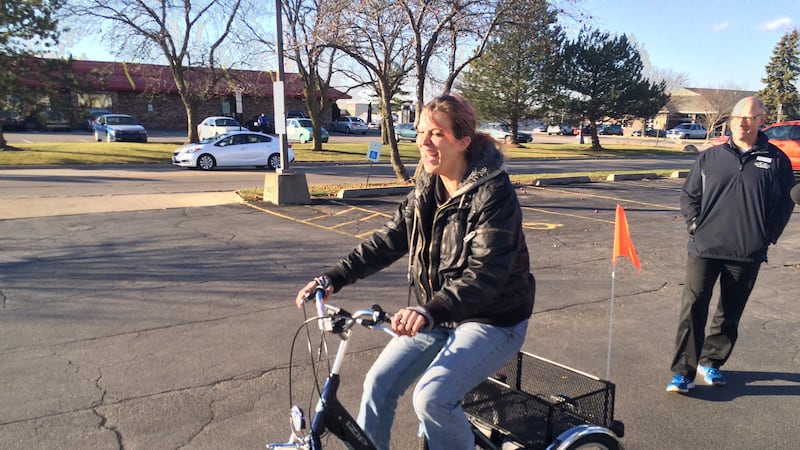 Published: Dec. 5, 2017 at 5:15 PM CST
A disabled woman in Cedar Rapids who lost her special bike to a thief about a week and a half ago is back on three wheels now thanks to the generosity of donors.
Friends and Bridget Kuhlman's boss started a Go Fund Me page to raise money after the thief snipped a lock and took the bike she used to get around from her workplace.
And the initial goal of just $350 was quickly shattered after people even outside eastern Iowa heard about a Bike for Bridget.
Staff at Northtowne Cycling and Fitness have seen people before who've had their bikes stolen.
But few probably smiled as much or as often as Bridget did Tuesday afternoon while picking out her new bike with the donated dollars.
Bridget has cerebral palsy, trouble walking and can only ride a bike with three wheels. After coverage of the theft last week, donations began pouring in.
At last count, 237 people had donated almost $5,900 to help Bridget get a new bike.
"I was speechless. I'm still speechless. I don't even know what to say," Bridget said.
And the unexpected generosity paid for a big upgrade.
The 3-wheeled bike that was stolen was purchased used from a pawn shop. The replacement is a new "e-bike" equipped with a battery-powered electric motor that will let her go farther and faster with less pedaling effort.
Derek Stepanek, owner of Northtowne Cycling and Fitness, says new bike will make a noticeable difference in her quality of life.
"It's a real powerful gift that all the donors were able to help Bridget and get her a bike that is an improvement over what she was riding," he said.
As she tested her new ride in the parking lot, Bridget was still trying to come to grips with all the people who reached out to help after hearing her story.
"It was overwhelming. Very thankful but overwhelming knowing that many people would respond," she said.
Bridget's new bike with the electric motor will cost about half of the amount given.
That leaves more than enough for the biggest bike lock in the store, to make sure it doesn't happen again, and winter clothing for cycling to and from work.
And, best of all, there was more than enough donated to restore Bridget's faith in people after someone took her bike.