Flood outlook highlights higher than average risk of spring flooding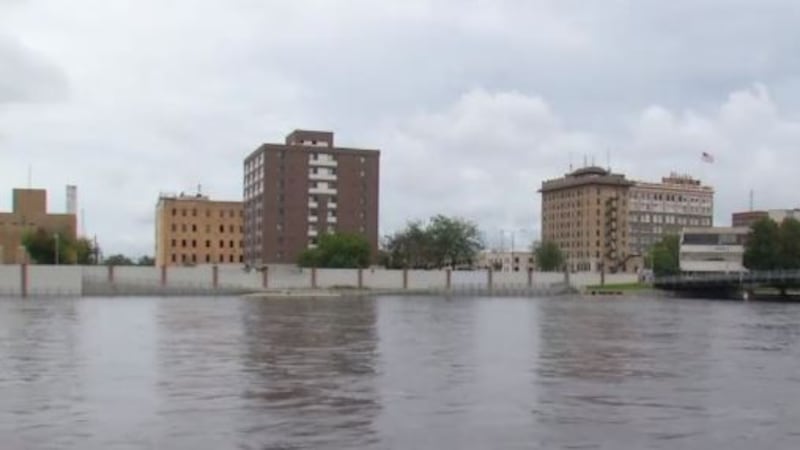 Published: Feb. 21, 2019 at 4:26 PM CST
The National Weather Service released its first spring flood outlook of the season on Thursday. It shows that the risk of spring snowmelt flooding is considerably higher than average.
This does not necessarily mean the flooding will be major. The risk of major flooding depends a great deal on how fast the snow melts and whether heavy rain falls in the river basins. Also, this is for spring flooding and doesn't necessarily mean anything about the risk of summertime flooding. While spring flooding can make it easier for flooding to happen in the summer, that is not always what happens.
Based on the current situation, the risk of river flooding this year is at least twice as high as the risk in an average year in many locations. For example, the historical chance of going above flood stage in Cedar Rapids in the spring is 32%. This year, it's 76%. On the Mississippi River, the flood potential is extremely high.
Below are the flood chances for the river forecast locations for our local basins, compared to the historical average. It compares the odds for reaching minor, moderate, and major flood stage.
Lansing:
Minor – 60% (average: 10%)
Moderate – 30% (average: 8%)
Major – 20% (average: Less than 5%)
McGregor:
Minor – Greater than 95% (average: 52%)
Moderate – 90% (average: 28%)
Major – 59% (average: 9%)
Guttenberg:
Minor – Greater than 95% (average: 42%)
Moderate – 77% (average: 13%)
Major – 33% (average: Less than 5%)
Dubuque:
Minor – Greater than 95% (average: 51%)
Moderate – Greater than 95% (average: 41%)
Major – 68% (average: 11%)
Bellevue:
Minor – Greater than 95% (average: 32%)
Moderate – 86% (average: 20%)
Major – 56% (average: 10%)
Charles City:
Minor – 35% (average: 20%)
Moderate – 20% (average: 10%)
Major – 9% (average: Less than 6%)
Janesville:
Minor – 15% (average: 9%)
Moderate – 5% (average: Less than 5%)
Major – Less than 5% (average: Less than 5%)
Cedar Falls:
Minor – 92% (average: 44%)
Moderate – 46% (average: 21%)
Major: 21% (average: 10%)
Waterloo:
Minor – 60% (average: 32%)
Moderate – 11% (average: 6%)
Major – 8% (average: Less than 5%)
Vinton:
Minor – 51% (average: 21%)
Moderate – 16% (average: 7%)
Major – 13% (average: Less than 5%)
Palo:
Minor – 66% (average: 30%)
Moderate – 15% (average: 6%)
Major – 8% (average: Less than 5%)
Cedar Rapids:
Minor – 76% (average: 32%)
Moderate – 49% (average: 18%)
Major – 24% (average: 7%)
Cedar Bluff:
Minor – 74% (average: 30%)
Moderate – 22% (average: 7%)
Major – 6% (average: Less than 5%)
Conesville:
Minor – Greater than 95% (average: 53%)
Moderate – 69% (average: 20%)
Major – 21% (average: Less than 6%)
Marshalltown:
Minor – 25% (average: 9%)
Moderate – Less than 5% (average: Less than 5%)
Major – Less than 5% (average: Less than 5%)
Tama:
Minor – 56% (average: 22%)
Moderate – 34% (average: 14%)
Major – 10% (average: Less than 5%)
Marengo:
Minor – Greater than 95% (average: 69%)
Moderate – 93% (average: 47%)
Major – 22% (average: 6%)
Iowa City:
Minor – 17% (average: 6%)
Moderate – 14% (average: Less than 5%)
Major – Less than 5% (average: Less than 5%)
Lone Tree:
Minor – 32% (average: 15%)
Moderate – 10% (average: 6%)
Major – Less than 5% (average: Less than 5%)
Columbus Junction:
Minor – 40% (average: 13%)
Moderate – 20% (average: 5%)
Major – 13% (average: Less than 5%)
Independence:
Minor – 26% (average: 8%)
Moderate – 16% (average: 7%)
Major – 10% (average: Less than 5%)
Anamosa:
Minor – 75% (average: 24%)
Moderate – 30% (average: 10%)
Major – 11% (average: Less than 5%)
Kalona:
Minor – Greater than 95% (average: 50%)
Moderate – 92% (average: 30%)
Major – 37% (average: 15%)
Sigourney:
Minor – Greater than 95% (average: 56%)
Moderate – 93% (average: 42%)
Major – 26% (average: 11%)
Oskaloosa:
Minor – 5% (average: Less than 5%)
Moderate – Less than 5% (average: Less than 5%)
Major – Less than 5% (average: Less than 5%)
Manchester:
Minor – 39% (average: 21%)
Moderate – 19% (average: 14%)
Major – 10% (average: Less than 5%)
Maquoketa:
Minor – 80% (average: 18%)
Moderate – 69% (average: 13%)
Major – 42% (average: 6%)
Elkader:
Minor – Greater than 95% (average: 46%)
Moderate – 60% (average: 22%)
Major – 27% (average: Less than 5%)
Garber:
Minor – 87% (average: 41%)
Moderate – 67% (average: 25%)
Major – 41% (average: 14%)
Decorah:
Minor – Less than 5% (average: Less than 5%)
Moderate – Less than 5% (average: Less than 5%)
Major – Less than 5% (average: Less than 5%)
Dorchester:
Minor – 72% (average: 20%)
Moderate – 36% (average: 6%)
Major – 17% (average: Less than 5%)