Fact Check: Iowa will give the blind a gun permit, but it's not a recent change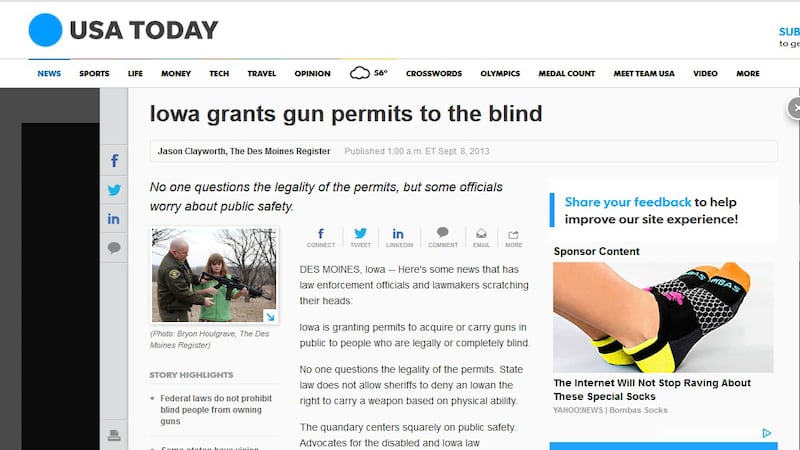 Published: Feb. 28, 2018 at 5:48 PM CST
Since the Parkland, Florida school shooting, one viral story on social media is a claim Iowa law allows even a blind person to get a handgun permit.
Unlike many rumors on the internet, this is true. But it's actually old and not new news.
One article with the headline "Iowa grants gun permits to the blind" is the one passed around most often. And that article actually dates to September of 2013.
In 2011, Iowa lawmakers changed the state's gun permit rules to "shall issue" for county sheriffs.
That meant county sheriffs, who issue gun permits, could only deny a permit for a specific reason such as a criminal record.
Have limited, or even no vision, is not a valid reason to deny a permit under the Iowa shall issue changes.
In recent days, the internet chatter got loud enough the fact-checking website www.Snopes.com to get involved with checking out the story.
The fact checkers found that some states require a vision exam or a gun range qualification for a handgun permit—but not Iowa.
And the report was true, although not the claims this was a new change in Iowa law.
The national fact-checking group noted Iowa state law was tweaked, in part, to prevent sheriffs from denying the right to carry a weapon based on a physical disability.
Linn County Sheriff Brian Gardner says permits are only needed to either buy or carry handguns, not long rifles or shotguns.
Gardner says he's issued maybe one or two permits to someone with impaired vision since the law changes in 2011.