Dad recalls Gerald Belz as a 'mama's boy with a tough exterior'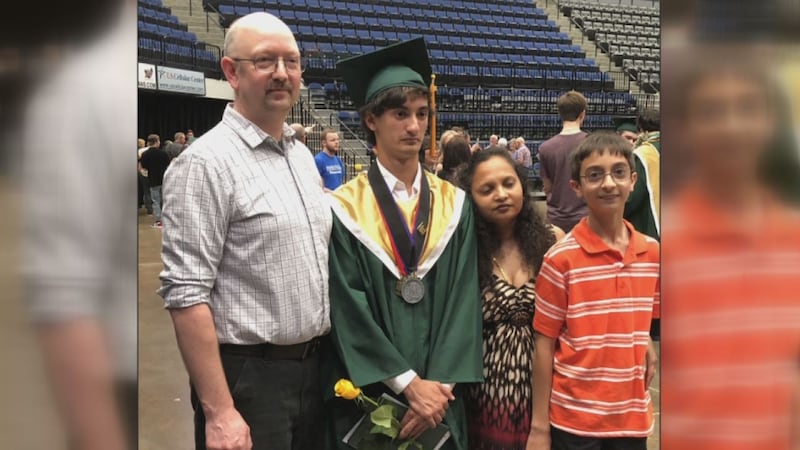 Published: Jan. 30, 2019 at 9:28 PM CST
Investigators are trying to figure out why Gerald Belz was outside before three in the morning today. The temperature was more than 20 below and the wind chill at that time was around 50 below.
Campus police found Belz unresponsive outside of the University of Iowa Halsey Hall. He did not survive. Investigators believe the cause of his death was weather-related.
Belz was 18-years-old. He graduated just last May from Cedar Rapids Kennedy High School. He was studying pre-med at Iowa.
Michael Belz describes his son as a quiet, tough guy. He was a semester ahead at the University of Iowa due to extra college courses. His dad said, from a young age, his boy wanted to be a doctor to help people.
Michael Belz said the last time he spoke to his son was Sunday night. The University of Iowa student came home for the weekend.
"It's hard," said Michael Belz. "He was probably more of a mama's boy with a tough exterior."
During his time at Kennedy High School, he played a few sports, including football.
"He was never very good at football," said Michael Belz. "If you had an official designation for him on the Kennedy football team it was benchwarmer, mop-up squad, tackling dummy."
"Everybody's certainly going to be affected by this," said Head Football Coach Brian White. "In our community, we look at Kennedy as a family and certainly our football program as a family."
White also teaches a government class and said Gerald Belz was a sharp kid.
"He was the top academic performer in my class at the time," said White,
White said he always put his best foot forward into anything he ever did.
"Gerald Belz was a great kid," said White. "Very trustworthy. Certainly he did things the right way. You come across things that are necessarily the star but still do everything they possibly can to help you out."
Both agree, his death will leave a mark in Cedar Rapids and the area for years to come.
"I want people to remember him as a compassionate person," said Michael Belz. "He had many more friends than I was aware of."
"He had a bright future and is going to be a tremendous loss," said White.
The cause of death is still under investigation. His autopsy report is pending.