Cedar Rapids 8th grader makes more than 800 Valentines for her school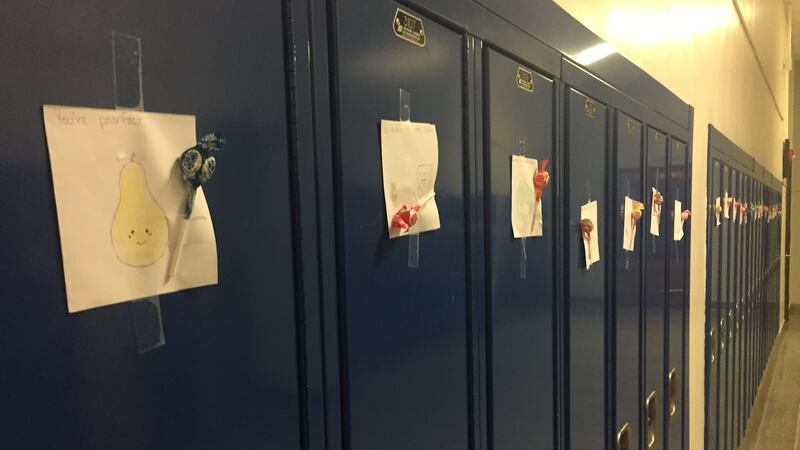 Published: Feb. 14, 2018 at 12:08 PM CST
An 8th-grade student from Franklin Middle School is making sure no one gets left out this Valentine's Day.
And she's doing it one handwritten note at a time with more than 800 personalized cards placed on lockers throughout her middle school.
Something different greeted students at Franklin Middle School this Valentine's Day.
Messages like "you're my main squeeze" not on candied hearts... but on each and every locker.
"Wow this is a really good surprise cause when I came in I wasn't expecting much," says 6th grader Gabrielle Degraft-Moffat.
"It says I hope you're having a great 6th-grade year, Happy Valentines," 6th grader Angel Hernandez reads out loud.
In total, over 800 notes handwritten with a personalized picture and all from a secret admirer, 8th grader Cora Johansen.
Like any good Valentine, this one was a surprise.
Cora put them on up after school last night, making sure each locker had one.
"A lot of people don't have friends or they don't really have somebody they feel likes them or loves them so I just wanted everybody to feel like they're loved," Cora said.
And students like Gabrielle Degraft-Moffat appreciate the kind gesture.
"Somebody really cares, cause they did this on the 7th and 8th-grade floor and they decided to put candy with it, cause honestly, I think candy makes everything better," Degraft-Moffat said.
So every student knows... "Yoda One for me."
Cora didn't get to witness the reactions first-hand on Wednesday, she was busy in band practice and then a class out at Kennedy High School.