Beginning farmers want Johnson County to change land use rules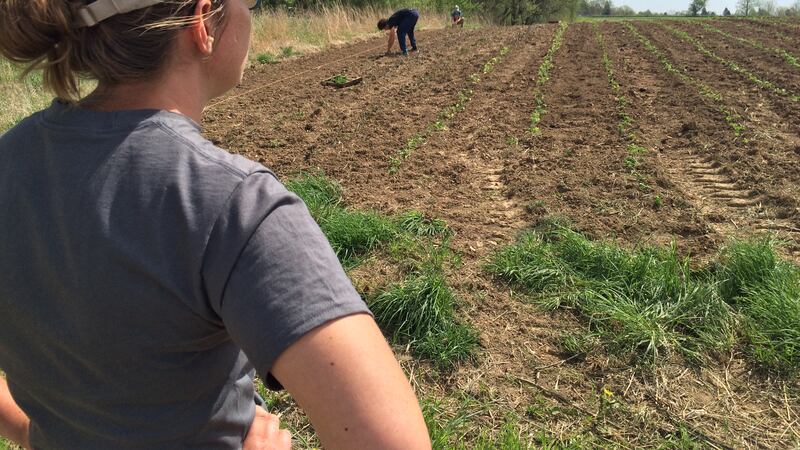 Published: May. 9, 2018 at 10:31 AM CDT
Fifty-six percent of Iowa farmland is owned by people age 65 and older. And those trying to encourage young farmers to become the next generation to grow crops say the price and availability of land is the greatest challenge.
And supporters of young farmers are focused on Johnson County this week to make changes that might make it easier for beginning farmers to get started.
Under zoning rules, Johnson County determines what is or is not a farm operation by size. If it's not at least 40 acres in size, the county doesn't consider it a farm.
But on May 10, county supervisors will discuss a new 10-year land use plan and supporters of young farmers are pushing for a change to eliminate the size requirement.
Kate Edwards started Wild Woods Farm north of Iowa City back in 2010.
She and a small crew grow organic vegetables for 200 families who subscribe for weekly deliveries during the growing season.
Edwards says she has to rent eight acres for the farm now but could afford to buy up to 20 acres for her own operation. The problem is, right now, Johnson County wouldn't classify that as a working farm.
And she says that's an example of the kind of barriers that keep young farmers from working the land.
"Less than one percent of the population farms and less than six percent of that population is under 35. So as a 31-year-old farmer I think it's incredibly important that we have a pathway in," Edwards said.
Edwards says a farm designation is important because it means farmers can legally live on the land that they cultivate. She can't do that right now, even if she owned her current rented farmland, because it's too small.
A farm classification also eliminates zoning and permit rules needed to construct ag buildings.
Mike Carberry, a Johnson County Supervisor, says he'd agree the 40-acre size requirement is a barrier to young farmers who don't have family support to start farming.
But he says the problem is if you do away with minimum rules to qualify as a farm you can end up with unintended consequences.
"It could be things like, on a smaller lot, to put confined animal feeding operations, CAFOs—factory farms—and we really don't want that and we don't want to encourage sprawl," Carberry said.
Carmen Black is another small farmer north of Solon who got a start growing vegetables and raising some livestock in recent years. With family financial support, she was able to purchase a small farm that barely meets the 40-acre minimum requirement in Johnson County.
But she says purchasing that much land to start farming was a financial strain and the ability to begin on a smaller parcel would have made things easier.
"I don't think the burden should be placed on beginning farmers to come up with an answer to that (minimum size) problem. I think there should be another way to allow people to get started farming on small acreages," she said.
Edwards says the farmland she rents now in Johnson County would sell for $8,000 to $10,000 an acre. But unless the county drops the size requirement she'll have to keep renting.
The last public input session on Johnson County's new land use plan takes place Thursday at 5:30 p.m. at the county administrative building in Iowa City.
Young farmer supporters are hoping for a turnout to convince supervisors to drop the size restrictions on farmland so new, young farmers can get a start.