Abby Finkenauer defeats Rod Blum in Iowa's first congressional district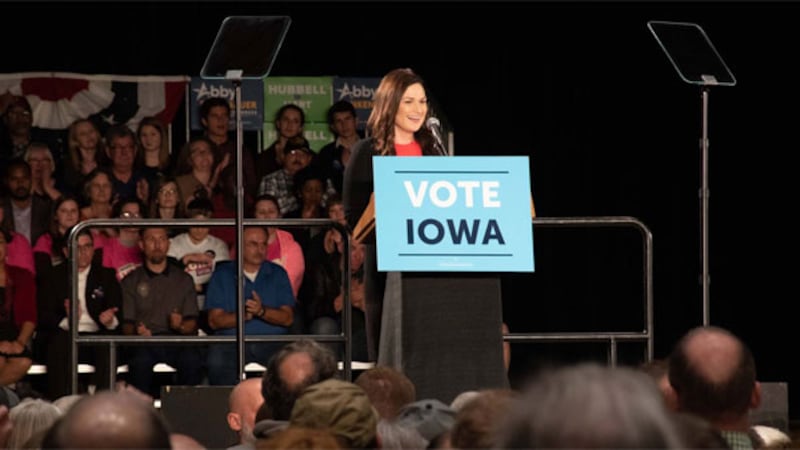 Published: Nov. 4, 2018 at 2:19 PM CST
Iowa State House Representative Abby Finkenauer defeated Republican incumbent Rep. Rod Blum in the race for Iowa's first U.S. congressional district on Tuesday.
Finkenauer is now one of the youngest women ever elected to the U.S. House of Representatives and one of two women elected Tuesday to represent Iowa as a member of the U.S. House of Representatives.
Finkenauer is also the first Democrat to hold the first district seat since former Rep. Bruce Braley held it from 2007-2015. She is only the third Democrat to hold the seat since 1973.
Finkenauer, 29, worked with the Community Foundation of Greater Dubuque before pursuing politics. She spent two terms representing the 99th District in the Iowa House of Representatives in 2014 and 2016.
She was re-elected unopposed in 2016.
Throughout the race, Finkenauer focused her campaign on improving the economy, representing working families and middle-class Iowans, a comprehensive immigration package, in addition to solutions for more affordable higher education and healthcare.
Finkenauer said that her focus is creating bipartisan solutions on a variety of topics, but says it is her goal to work with President Trump, despite some differences in opinion.
"I'd start where quite frankly the President and I agree- or at least he said he cared about," Rep. Finkenauer said in the October interview. "Which was investing in infrastructure, he talked about fixing health care. He talked about a lot of stuff when he was coming to Iowa back in 2016 and that's stuff I care about too."
Finkenauer's odds to win the seat were as high as 95 percent, according to political prediction website FiveThirtyEight. She said by how the election panned out, Iowans "made clear who we are."
"Tonight, Iowa rejected fear and division, and tonight, Iowa proved we step up for our neighbors," Finkenauer said.
She said during her victory speech she's thankful for everyone who donated or volunteered.
"I truly believe hope is the reason we got this far - and hope is the reason we still have work to do. You've asked me to be your voice in Washington and you have my promise that I will work my tail off for you every single day. This is and always will be personal," Finkenauer said.
After the election results were released, Blum released the following statement:
"It was a uniquely American opportunity for the son of parents who didn't make it past the 10th grade to be elected to Congress— and it has been an honor to serve the First District. Thank you to everyone on my campaign team for fighting for the values we believe so strongly in. I urge you all to continue to work to uphold our constitutional rights, protect the rights of the unborn, and combat government waste— I know I plan to do so. My first vote in Congress was against the leadership of my own party: voting against then-sitting speaker John Boehner. I urge Abby Finkenauer to similarly prove her independence from big-donors and the leadership of her own party when she takes this same vote in Congress."
Finkenauer will begin her two-year term in early January 2019.