2 NFL players arrested following fight in Cedar Falls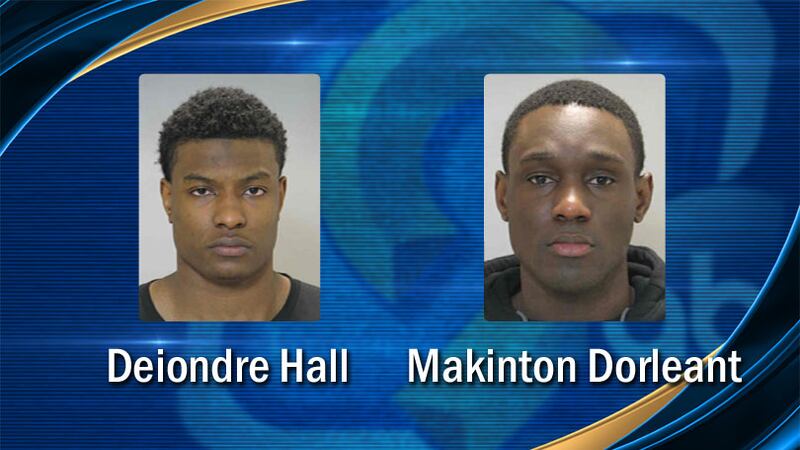 Published: Mar. 26, 2017 at 8:40 PM CDT
Two NFL players who played college football at the University of Northern Iowa are facing charges in Black Hawk County following a fight at a bar on College Hill in Cedar Falls, according to court documents.
Cedar Falls Police arrested Deiondre Hall and Makinton Dorleant around 1 a.m. Sunday outside Sharky's Funhouse at 2223 College Street. Hall plays for the Chicago Bears and Dorleant plays for the Green Bay Packers.
According to a police report, officers saw a large crowd fighting outside Sharkey's. Police said Hall was in the middle of the crowd "flailing his arms and yelling profanity at bar staff and patrons." Police removed Hall from the crowd but he kept trying to get away from officers and was yelling and spitting in the face of officers. Police said the could smell alcohol on Hall's breath, his eyes were bloodshot and watery, his speech was slurred, and he had trouble maintaining his balance. Officers put Hall in handcuffs but he refused to get into a squad car. An officer used a Tazer on Hall's left leg to get him to comply with orders.
Hall is facing charges of disorderly conduct, public intoxication, and interference with official acts.
Officers said the crowd became hostile while they arrested Hall and Dorleant attempted to grab Hall away from officers. After removing Hall from the scene, Dorleant began "yelling and waving his arms in a threatening manner," according to the police report. They said he individually approached 3 officers who each told him to get back on the sidewalk. One officer felt threatened enough to pull his baton out, according to the report. Police said Dorleant was yelling and using profanity at all the officers, who then arrested him on a charge of interference with official acts.
Police said one officer was hit in the back of the head with a beer bottle during the incident. Police are looking at surveillance video to determine who hit the officer.
Hall and Dorleant were being held in the Black Hawk County Jail Sunday night.VIEWER DISCRETION ADVISED: This is raw video from the scene of the fight and arrests. It contains language some may find offensive.