Anchor
Atlanta News First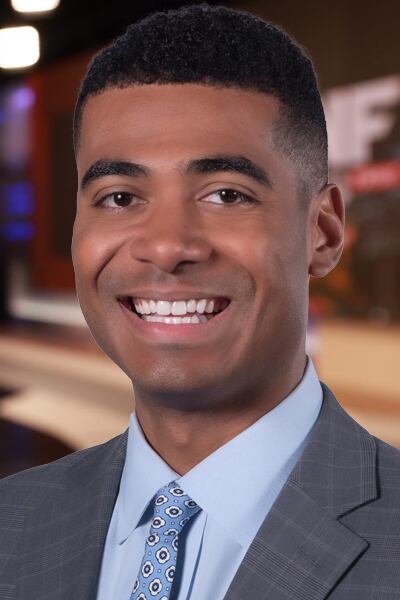 Allen Devlin is an Anchor for Atlanta News First, anchoring the 3 p.m., 5 p.m. and 10 p.m. weekday newscasts on Atlanta News First and Peachtree TV. Allen has been with ANF since July of 2021 and originally joined the team as a Breaking News Anchor and General Assignment Reporter.
The Atlanta native is a 3-time Emmy-nominated Anchor/Reporter, a 2-time South Carolina Broadcasters Association Award Winner, and a 2-Time RTDNAC Award Winner. Allen has covered an array of breaking news stories, severe weather disasters, political elections and sports championship wins all over metro Atlanta and in some instances, the country. Allen anchored Atlanta News First's coverage of the active shooter at a Midtown Atlanta Medical Center and was also on-air when former President Donald Trump was arrested at the Fulton County Jail, including the subsequent release of the former President's mugshot. Allen celebrated with Braves Fans at Truist Park during their World Series win in November of 2021 and traveled with the UGA Bulldogs during their 2022 CFP Championship win at SoFi stadium in Los Angeles, California. Allen enjoys being out in the Atlanta community and is consistently seen hosting events, specials, fundraisers and gala's in North and Georgia.
Before joining Atlanta News First, Allen was a General Assignment Reporter for WYFF News 4, the NBC affiliate in Greenville, South Carolina. During his time with WYFF, Allen reported on a number of stories including the death of James "Radio" Kennedy, Joe Biden's campaign trail through the Upstate, the aftermath of the 2016 Townville Elementary School fatal shooting, the impact of George Floyd's death on the AME Church and also secured the only interview with the parents of the late Chadwick Boseman regarding his battle with colon cancer and subsequent passing. Allen's most memorable story was his continued coverage of an EF3 Tornado that touched down in the small town of Seneca, SC.
Prior to WYFF, Allen earned his master's degree in journalism from Columbia University in the city of New York. While in New York, Allen covered the rising homeless rates within the city, as well as the introduction of congestion pricing in Manhattan. Allen was also awarded the Student duPont/Judy F. Crichton Award for Video Journalism from Columbia University for his story on the lack of accessibility within the city's public transportation upon his graduation in May of 2019.
Allen is a proud Gamecock Alum and earned his bachelor's degree in Broadcast Journalism from the University of South Carolina, graduating in May of 2018. Through his work with Carolina News, Allen received two Student Emmys from the National Academy of Television Arts and Sciences, as well as the Mark of Excellence award from the South Carolina Society of Professional Journalist.
Allen also worked with CNN on the 2016 Presidential Campaign and assisted in the Republican and Democratic Town Halls in Columbia, South Carolina, in February of 2016 while at UofSC. His first taste of the Atlanta TV News business began when he interned at a local news station during his Junior year of college.
When Allen is not working, he enjoys spending time with his family and friends here in the metro area.
Allen is very excited to be back home once again. Allen's passion for journalism is centered around the human element and is rooted in hearing and telling the stories of others. He loves meeting and working with new people every day and is always excited to share someone's story, no matter how big or small.
Updated: Aug. 18, 2022 at 2:14 PM CDT
|
By
Allen Devlin
and
Emily Van de Riet
The iconic Rainbow Crosswalk in Atlanta has been vandalized once again, according to police.