Holiday travel around the midwest should be in good shape!
Published: Nov. 21, 2023 at 12:08 PM CST
CEDAR RAPIDS, Iowa (KCRG) - Rain is largely done for the area today, though a stray bit of drizzle could still be around early this afternoon. As this system marches east, look for a mix of clouds and sunshine today with clouds moving out of the area later on, becoming partly cloudy tonight.
Winds will increase during the day today, too, with gusts reaching 20 to 30 mph at times between about 9:00 a.m. and 9:00 p.m. While highs on the thermometer will hit the mid 40s for many, those winds will keep our wind chills down toward the mid to upper 30s for most of the day. As skies turn clearer tonight and winds become lighter, a cold start to Wednesday looks likely with lows in the low to mid 20s.
We'll see a shift toward southwesterly winds again for Wednesday, which will help keep us near or above normal for highs for another day in the mid to upper 40s. A cold front will move through late Wednesday into early Thursday, shifting winds back to a northerly direction in time for Thanksgiving. This starts a gradual cooldown through to the traditional weekend, with highs in the low to mid 40s for Thursday, and only the mid to upper 30s for Friday into the early parts of the following week.
There have been no signs of a major change in our weather pattern that would result in trouble for Thanksgiving holiday travel for most of the important travel days, which is good news for folks looking to visit friends and family either in the local area or even much of the region. Other than a daily uptick in the wind a bit, we should see dry conditions and a decent amount of sunshine until Friday into Saturday, when clouds will be a bit more common. Cooler weather settles in post-Thanksgiving.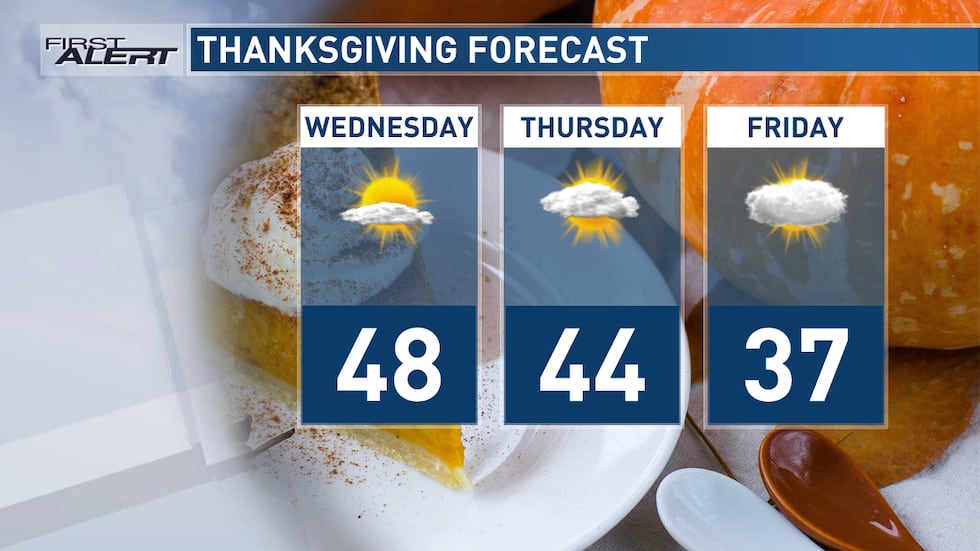 A storm system moves off of the Plains toward the end of the weekend, with a risk of some light snow coming along with it. Right now, it looks like the amounts and impacts from this system will be low, but we'll be watching it as it gets closer to the area. The chance comes around Saturday night into Sunday. Updates along your route can be found on the First Alert Weather App by using the "follow me" feature no matter where your holiday travel takes you and how long you'll be there.
Temperatures stay colder into the following week, with highs only in the mid 30s to around 40, with lows in the upper 10s to low 20s.
Copyright 2023 KCRG. All rights reserved.