Light showers come and go, quieter around Thanksgiving
Published: Nov. 20, 2023 at 5:35 AM CST
CEDAR RAPIDS, Iowa (KCRG) - Areas of scattered showers remain possible around eastern Iowa through early Tuesday, before a handful of dry days arrive just in time for Thanksgiving.
Be prepared for some shower activity at just about any time throughout the day. While it should generally be light, you'll still need to factor it into your plans for the afternoon and evening. Temperatures hang around the upper 40s to low 50s, with an easterly to northeasterly breeze providing some extra chill to the air. Those winds could range between 15 to 25 mph at times today, making for a blustery one.
Showers remain possible into the night, as well. They may be a bit more widespread the farther south and east that you go in the viewing area, with areas along the Mississippi having the best shot at the heaviest activity. Lows fall toward the mid 30s as chillier air begins to work into the state on northerly winds. During the day on Tuesday, any remaining showers end early and skies gradually turn a bit clearer. Things stay windy, though, so expect a chilly feel to a day with high temperatures reaching the mid 40s.
As we head into the prime traveling days of Wednesday and Thursday, conditions should be good to get out and about around the state. Wednesday may still be a bit windy at times, but likely a little less so than on Tuesday as the storm system gets farther away from the region. Otherwise, partly to mostly sunny skies and no precipitation are expected locally. That even applies to a good portion of the region, so driving and flying should be in good shape for most. Temperatures are even slated to be somewhat close to normal, with highs in the upper 40s on Wednesday, cooling a bit to the low to mid 40s on Thanksgiving.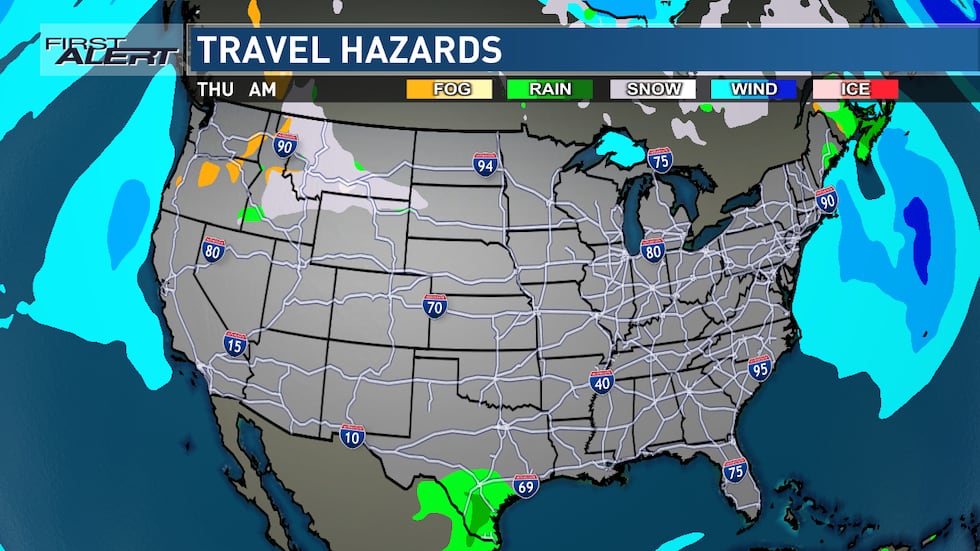 Black Friday also appears to be in good shape, weather-wise, with more clouds but dry weather likely to continue. Temperatures will continue their decline, though, with highs in the mid to upper 30s from then through the weekend after Thanksgiving. A few snow showers remain possible on Saturday, but the chance is pretty slim at this point. Major disruptions look unlikely due to this system, but we'll be watching closely for any changes over the next few days.
Temperatures stay near or just below normal early next week, with generally quiet weather continuing.
Copyright 2023 KCRG. All rights reserved.