Cooler into the weekend but still mild for this time of year, temperatures tumble further by Thanksgiving but travel weather looks good!
Published: Nov. 17, 2023 at 11:42 AM CST
CEDAR RAPIDS, Iowa (KCRG) - Mild weather and highs in the 60s look to be behind us as a cold front has now brought cooler, more typical November temperatures to eastern Iowa.
High pressure keeps us quiet for the next few days with sunshine overhead and highs in the upper 40s today. Light northerly winds are around today, shifting more out of the south tonight. Overnight, we dip down to the 20s and then we'll return to the 50s this weekend with the help of that southerly breeze. Football games will be in good shape tomorrow afternoon for the Hawks and Panthers with afternoon temperatures in the mid 50s for both. If you are headed to Ames, look for kickoff temperatures in the mid 40s, falling further by the end of the game.
Clouds do build later into the day on Sunday, though, with a storm system approaching. That system will track to our south, but close enough to the TV9 viewing area to provide a chance for some showers by Monday into early Tuesday. Any rain looks to be light and sparse. Highs will be held back into the 40s by the clouds and showers associated with this. A stronger cold front sweeps through on Tuesday, too, leading to colder air pouring into the region on some fairly strong winds.
Even cooler temperatures settle in next week behind an even stronger cold front on Tuesday. Winds pick up as that front moves in too with gusts over 30 mph likely Tuesday and Wednesday. Highs dip to the mid-30s for Thanksgiving afternoon and only top out around freezing for Black Friday and Small Business Saturday shoppers. Lows will also fall into the 10s and low 20s on each day, making for a cold feel to the air around the clock. The good news is that the busiest travel times of Wednesday and Thursday should be clear of weather-related obstacles, with dry weather expected for the immediate area and extending further into the region.
Most of Friday should be in good shape, too. This could change later on Friday night into very early Saturday as a disturbance may develop and pass near the state. If it does, then a chance for some snow would exist during this time. Due to the timeframe for this being more than a week away, and a wide spread of potential outcomes being shown by the computer models we use to help make our forecasts, the outcome is still fairly uncertain. It's a time period we'll be watching, though, and you're encouraged to check back over the next few days for the latest.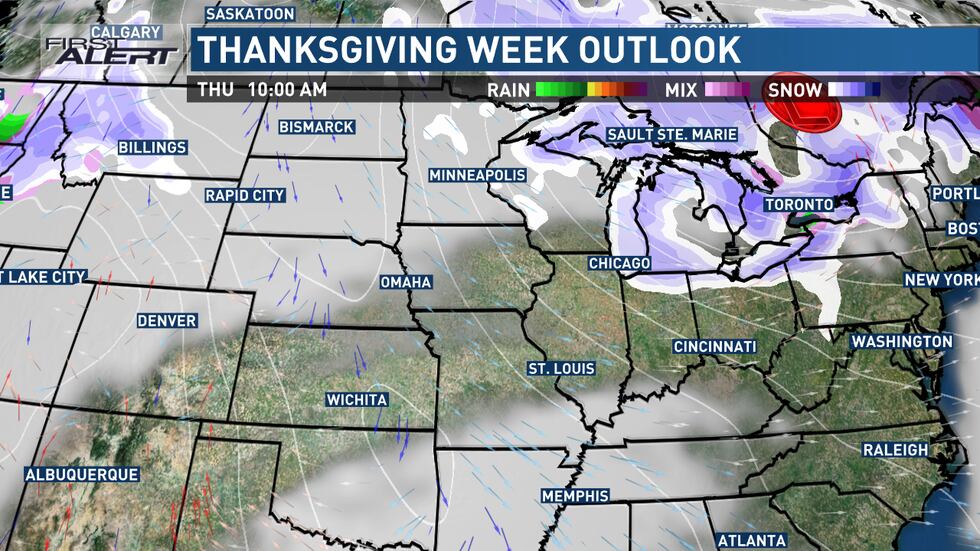 Copyright 2023 KCRG. All rights reserved.