Chillier for Friday with an excellent weekend to follow
Published: Nov. 17, 2023 at 5:51 AM CST
CEDAR RAPIDS, Iowa (KCRG) - While temperatures will be around 15 to 20 degrees colder today for a high, we'll bounce back with somewhat warmer temperatures for the weekend.
That cooldown from last night's cold front actually just puts us a lot closer to normal for this time of year. Highs in the mid to upper 40s are likely for most, accompanied by full sunshine for the majority of the day. Winds out of the north or northwest will be a bit stronger this morning, but turning lighter as the day goes onward.
Light winds and clear skies should be present both mornings over the weekend, setting up each day with lows in the mid to upper 20s. The drier air we'll have in place will be easy to warm up during the day, though, pushing highs into the mid to upper 50s. A little bit of a westerly or southwesterly wind will help the case, along with decent amounts of sunshine. Clouds do build later into the day on Sunday, though, with a storm system approaching.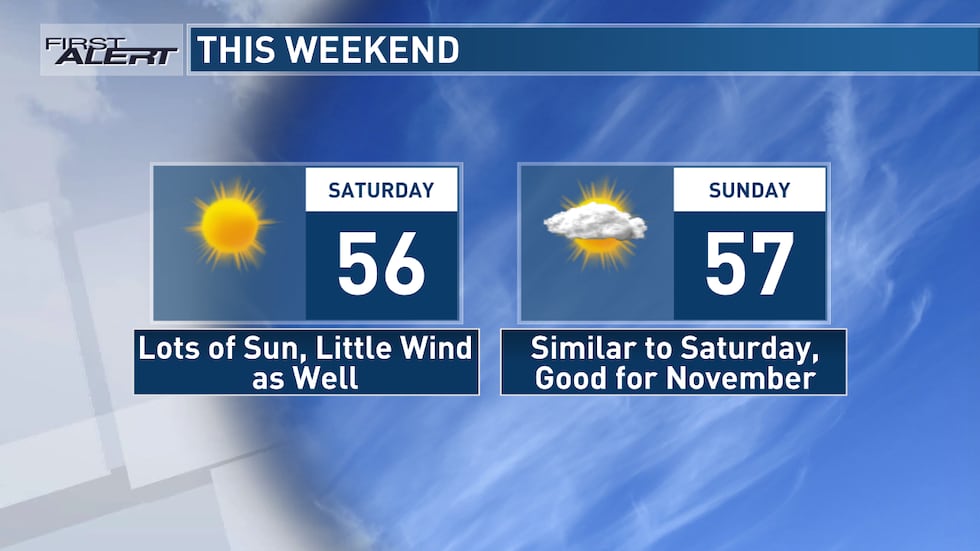 That system will track to our south, but close enough to the TV9 viewing area to provide a chance for some showers by Monday into early Tuesday. Highs will be held back into the 40s by the clouds and showers associated with this. A stronger cold front sweeps through on Tuesday, too, leading to colder air pouring into the region on some fairly strong winds.
Those winds carry us into the 30s for highs as soon as Wednesday, and likely stick around for the remainder of the holiday weekend. Lows will also fall into the 10s and low 20s on each day, making for a cold feel to the air around the clock. The good news is that the busiest travel times of Wednesday and Thursday should be clear of weather-related obstacles, with dry weather expected for the immediate area and extending further into the region.
Most of Friday should be in good shape, too. This could change later on Friday night into very early Saturday as a disturbance may develop and pass near the state. If it does, then a chance for some snow would exist during this time. Due to the timeframe for this being more than a week away, and a wide spread of potential outcomes being shown by the computer models we use to help make our forecasts, the outcome is still fairly uncertain. It's a time period we'll be watching, though, and you're encouraged to check back over the next few days for the latest.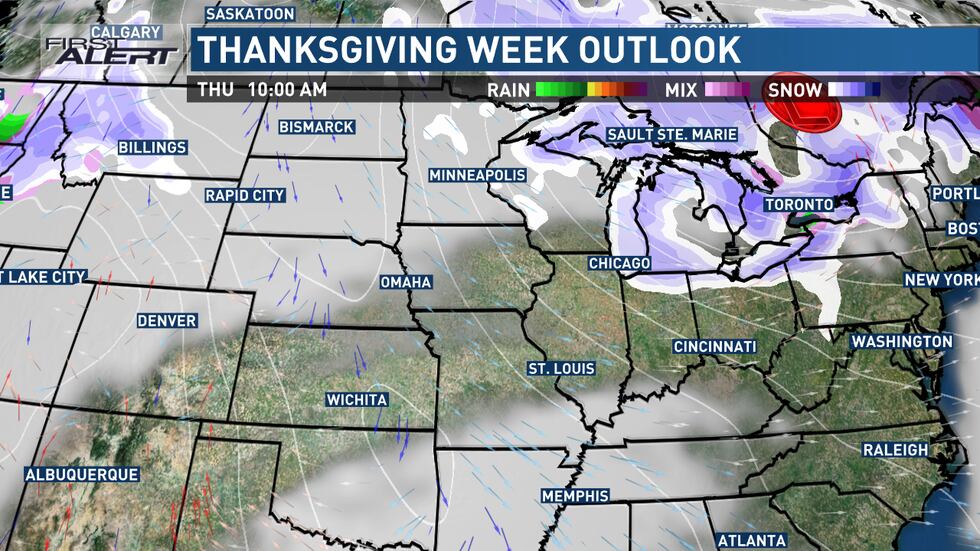 Copyright 2023 KCRG. All rights reserved.