TSA: Expect this holiday travel season to be the busiest ever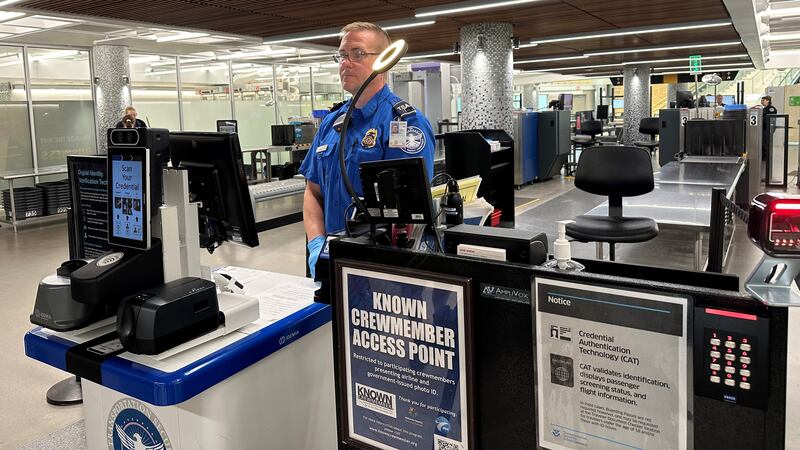 Published: Nov. 14, 2023 at 4:06 PM CST
CEDAR RAPIDS, Iowa (KCRG) - With the holiday season approaching, and a government shutdown impending, the Transportation Security Administration (TSA) is giving travelers a heads-up that airport security checkpoints are expected to be busier than ever.
The TSA says that they have screened a record number of passengers this year so far, having already seen 7 of the top 10 busiest travel days in TSA's history just in 2023 alone. They say that during the Thanksgiving travel period (Nov. 17th - Nov. 28th), they plan on screening 30 million travelers.
"We expect this holiday season to be our busiest ever. In 2023, we have already seen seven of the top 10 busiest travel days in TSA's history," said TSA Administrator David Pekoske. "We are ready for the anticipated volumes and are working closely with our airline and airport partners to make sure we are prepared for this busy holiday travel season. We will also do our best to maintain wait time standards of under 10 minutes for TSA PreCheck lanes and under 30 minutes for standard screening lanes. I am grateful for our dedicated employees who continue to remain vigilant and focused on the mission during this holiday travel season and beyond."
They say, there are now more than 17.6 million passengers enrolled in TSA PreCheck, which is the highest amount ever recorded and represents 3.9 million more TSA PreCheck members than there were this time last year.
The TSA is also warning that while its employees are considered essential and would continue working without pay in the event of a government shutdown, the added stress and circumstance would impact its employees' ability to get to work - which would also lead to longer waiting times.
The TSA offers these tips to keep in mind before arriving at the airport:
Pack smart; start with empty bags. Passengers who start with an empty bag while packing are less likely to bring prohibited items through the checkpoint. Certain foods, such as gravy, cranberry sauce, wine, jam, and preserves must be packed in a checked bag because they are considered to be liquids or gels. If you can spill it, spray it, spread it, pump it, or pour it, then it is a liquid and must be packed in your checked bag.
Bring an acceptable ID and have it out in the screening lane. Identity verification is an important step in the security screening process. At many checkpoints, the TSO may ask you to insert your physical ID into one of our Credential Authentication Technology units, where a boarding pass is not needed. For information on how TSA is using facial recognition technology to enhance security effectiveness, improve operational efficiency, and yield a more streamlined passenger experience, go to the link here.
Arrive early. The airport will be busy this week, so arrive two hours prior to your scheduled flight to allow for adequate time to park your car or arrive via public transit or rideshare, check bags, and go through security screening before arriving at the gate.
If you plan to travel with a firearm, you must properly pack the firearm in a hard-sided, locked case in your checked bag and declare it with the airline at the ticket counter when checking in. Passengers are prohibited from packing firearms in carry-on luggage and bringing them to the airport security checkpoint and onboard aircraft. Bringing a firearm to a TSA checkpoint is expensive and time-consuming and can cause delays. The maximum civil penalty for bringing a firearm to a TSA checkpoint is nearly $15,000. Additionally, it will result in the loss of TSA PreCheck eligibility for up to five years. For more information on transporting firearms, visit the link here.
Be aware of new checkpoint screening technology. TSA uses a variety of security methods and technologies to secure our transportation systems. Screening protocols vary from airport to airport, depending on available technology and the current threat environment.
Travel with ease with TSA PreCheck and ensure you have the TSA PreCheck mark on your boarding pass. TSA's trusted traveler program now has more than 90 participating airlines, is available at more than 200 airports and has two authorized enrollment providers. Those enrolled enjoy the benefits of faster checkpoint screening. For more information, visit here.
Call ahead to request passenger support. Travelers or families of passengers who need assistance may call the TSA Cares helpline toll-free at 855-787-2227 at least 72 hours prior to travel with any questions about screening procedures and to find out what to expect at the security checkpoint. TSA Cares also arranges assistance at the checkpoint for travelers with specific needs.
Text or direct message @ AskTSA. Get your questions answered before you head to the airport. Travelers can get assistance in real time by texting their questions to #275-872 ("AskTSA") or through @AskTSA on X (formerly known as Twitter) or Facebook Messenger. An automated virtual assistant is available 24/7, while staff is available from 8 a.m. to 6 p.m. ET daily, including holidays and weekends.
Remain aware. Travelers should report suspicious activities, and remember: If You See Something, Say Something™.
Show gratitude to frontline workers. Thank a TSO, a gate agent, a flight attendant, or someone who serves on the transportation frontlines. TSOs complete about 200 hours of training to become certified and are committed to transportation security while ensuring all travelers are treated with respect and courtesy. Pack an extra dose of patience, especially during higher passenger volume travel days, and show gratitude to those who are working diligently over the holidays and every day to get everyone to their destinations safely.
Copyright 2023 KCRG. All rights reserved.