Iowa State runs over BYU for third straight road win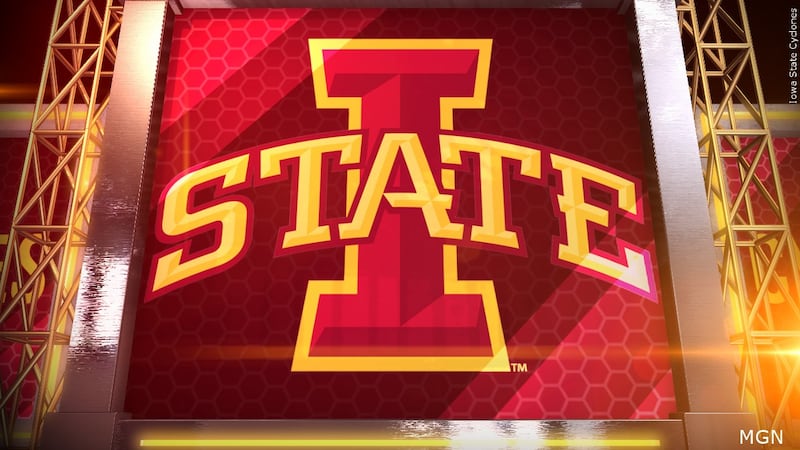 Published: Nov. 12, 2023 at 3:54 AM CST
PROVO, Utah (AP) — Rocco Becht threw for 203 yards and two touchdowns to lead Iowa State to a 45-13 victory over BYU on Saturday night.
Becht has thrown 15 touchdown passes this season, one shy of matching the freshman record set by current San Francisco 49ers quarterback Brock Purdy. Becht had his fourth consecutive 200-yard game and has thrown for 200 or more yards in seven games this season.
"Our offensive staff put him in great situations, but I really thought Rocco was confident and played his best football game for four quarters," Iowa State coach Matt Campbell said.
Jaylin Noel caught both touchdown passes and tallied 98 yards on five receptions.
The Cyclones (6-4, 5-2 Big 12) churned out a season-high 234 yards rushing, moved to 5-0 all-time against BYU and earned their third straight road win. Abu Sama led the way with 110 yards and two scores on eight carries. Coming into the game, Iowa State ranked 12th in the Big 12 with 117.6 rushing yards per game.
Jake Retzlaff threw for 104 yards and a touchdown with two interceptions in his second start for BYU. Retzlaff also had 64 of the Cougars' season-high 188 yards rushing. BYU (5-5, 2-5) lost its third straight game after once again starting slow and struggling to finish drives.
The Cougars eclipsed 300 total yards for just the third time this season, finishing with 318.
"I think if you asked a lot of the guys, we know we can move the ball down the field," Retzlaff said. "I don't think we're far off from clicking and really getting huge scores and huge yardage games.
BYU dug an early hole with a pair of quick turnovers inside its own 35-yard line. Retzlaff threw an interception to Will McLaughlin on the Cougars' first play from scrimmage and McLaughlin returned it to the BYU 28. Then Ray Paulo fumbled a kickoff return following Iowa State's first scoring drive and Drew Surges jumped on the ball at the BYU 17.
The Cyclones took advantage of the miscues. Becht capped a three-play drive following the interception with a 4-yard toss to Noel to put Iowa State on the board. Chase Contreraz added a 31-yard field goal after Surges' fumble recovery, giving the Cyclones a 10-0 lead.
"Just like the Baylor game, a fast start for us gave us a lot of momentum and confidence," Noel said. "Fast starts are what this team needs to be successful."
BYU ran six straight plays – highlighted by a 36-yard scamper from Aidan Robbins – to set up a 5-yard pass from Retzlaff to Jojo Phillips that cut the deficit to 10-7.
Iowa State countered with three touchdown runs to extend its lead to 31-7 by halftime. Three different running backs found the end zone – Eli Sanders on a 4-yard run, Cartevious Norton on an 11-yard scamper, and Sama on a 13-yard burst.
"There's not a lot of things going right for us right now," BYU coach Kalani Sitake said. "The one thing is to go work really hard and try to find a way to get a better result next week and our focus is going to be on that."
THE TAKEAWAY
Iowa State: The Cyclones became bowl eligible for the sixth time in seven seasons behind one of their most complete games in all three phases this season.
BYU: All the wheels fell off for BYU's offense after one early scoring drive. The Cougars totaled just four yards on nine plays in the second quarter and could not climb out of the resulting hole they dug for themselves.
THIRD DOWN DOMINANCE
Repeatedly converting on third down keyed Iowa State's success over four quarters. The Cyclones went 7 of 10 on third down through the first three quarters and finished 8 of 14 for the game. They had an average third-down distance of 7.2 yards.
"I felt like we had a good plan tonight for third down," Brecht said. "We knew what they were going to play in the back end."
Third downs ended up being a much different story for BYU. The Cougars went 1 of 11 on third down and did not convert a third down after the first quarter.
UP NEXT
Iowa State hosts Texas on Saturday.
BYU hosts Oklahoma on Saturday.
Copyright 2023 The Associated Press. All rights reserved.