Caitlin Clark scores 44 points as No. 3 Iowa holds off No. 8 Virginia Tech in neutral site game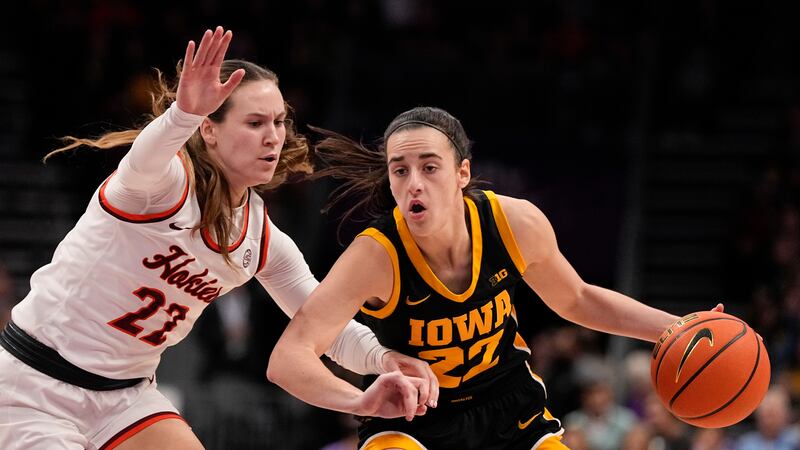 Published: Nov. 9, 2023 at 9:19 PM CST
CHARLOTTE, N.C. (AP) - Caitlin Clark had 44 points, eight rebounds and six assists, and No. 3 Iowa pulled away late from eighth-ranked Virginia Tech en route to an 80-76 victory Thursday night in a neutral site game.
The Associated Press 2023 player of the year showed off her full arsenal, hurting the Hokies with step-back 3-pointers, driving one-handed scoop layups, turnaround jumpers and nifty passes to escape double teams. She repeatedly found her way to the free throw line, where she went 13 of 17.
Clark finished just shy of her career best of 46 points against Michigan in 2022.
Hannah Stuelke added 12 points and Sydney Affolter had 14 rebounds for the Hawkeyes (2-0).
The Hawkeyes overcame a big game from Georgia Amoore, who had 31 points on seven 3-pointers for the Hokies (1-1). Two-time ACC player of the year Elizabeth Kitley had 16 points and 16 rebounds.
Both teams entered the season with high hopes this season after making deep runs in the NCAA Tournament a year ago with Virginia Tech losing to LSU 79-72 in the Final Four and Iowa falling to the Tigers 102-85 in the championship game.
Clark got off to a strong start early with seven points and three assists to Stuelke as Iowa bolted to a 13-4 lead.
But the Hokies came storming back behind a 14-2 run led by Amoore, who had 11 points in the first quarter on three 3s, including a buzzer-beater from halfcourt.
Clark continued to pour it on the third quarter, going behind-the-back at the top of the key getting a left-handed layup to fall to help Iowa build a double-digit lead. Virginia Tech would battle back to cut the lead to 62-60 on back-to-back 3s from Matilda Ekh and Cayla King.
But Clark and the Hawkeyes took over from there, going on a 14-2 tear in the fourth quarter behind Kate Martin and Sharon Goodman, who combined for nine points during the stretch. Clark assisted on two of the buckets.
Virginia Tech wouldn't give up as Amoore knocked down a 3 from the corner to cut the lead to four with 1:12 remaining. The Hokies got the ball with a chance to make it a one-possession game, but passed up an open look before Amoore missed a desperation 3.
Clark made five throws down the stretch to help put the game away.
BIG PICTURE
Iowa: Clark was simply unstoppable, scoring and creating in every way possible. But the Hawkeyes also showed that despite a lack of size, they have plenty of other talent. This is a team with a legitimate chance to win it all.
Virginia Tech: The Hokies, led by Amoore, showed a ton of fight but just couldn't contain Clark. Still, this is a talented group that will be able to compete with any team in the country. Amoore is a fearless point guard and it all starts with her.
UP NEXT
Iowa: Visit Northern Iowa on Sunday.
Virginia Tech: Host Houston Baptist on Nov. 16.
Copyright 2023 KCRG. All rights reserved.