Univ. of Northern Iowa working to build new wrestling training facility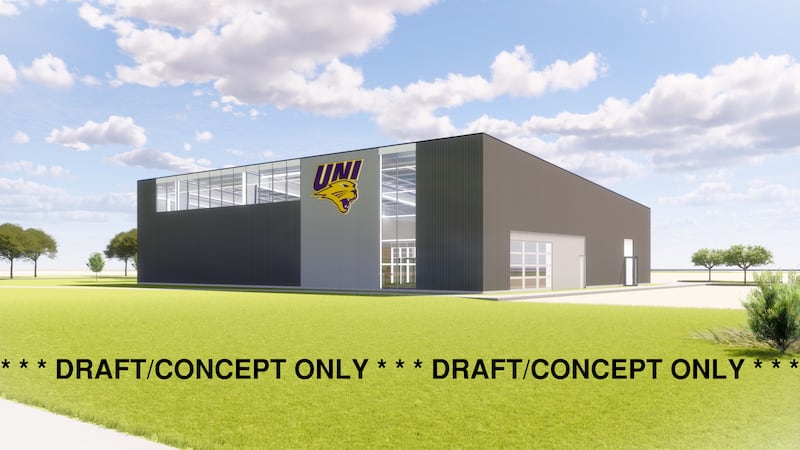 Published: Nov. 9, 2023 at 5:39 PM CST
CEDAR FALLS, Iowa (KCRG) - If the Iowa Board of Regents gives their approval, the University of Northern Iowa will start working toward building a new wrestling training facility.
The University says it will only use private gifts to build the facility. They do have renderings made of what it could look like, but they say finalized designs will be scaled to match their fundraising efforts. But they're planning for the future by making sure they meet the needs of the program's future.
They want to have room for multiple mats, as well as space for weight and cardio training, locker and training rooms, rehabilitation space and offices.
Documents from the Board of Regents meeting agenda show the wrestling program was previously housed in the West Gym, but the facility has reached the end of its useful life. It also shows the building has been deemed unsafe and the University has emptied it. To avoid it collapsing, crews have put temporary steel supports on the eastern exterior of the building. The University is asking the Board of Regents for permission to tear it down.
The proposed new facility would be roughly 11,000 gross square feet and would go in an underutilized gravel parking lot south of West 27th Street and west of Panther Parkway.
The Board will discuss the razing and new facility approval during their meeting Wednesday, November 15, which will be located on the UNI's campus.
Last month, UNI announced their push for a new facility with the help of the "Our Tomorrow" fundraising campaign. They say so far it's gotten $246 million into 2026, thanks to donations from more than 27,000 individuals.
"The inclusion of this new wrestling practice facility in the Our Tomorrow campaign gives us the ability to put the full force of the university behind this project. It certainly shows that it is a priority," said Athletics Director David Harris. "The future of the wrestling program is bright. It continues to excel at a high level. If you have not been a fan of Panther wrestling, this is a great time to throw your support behind our coaches and these young men."
Last season, the Panther Wrestling Team finished 8th in the nation in the NCAA Division I dual meet. They averaged 2,812 during six home duels, and had the fourth-best team grade point average (GPA) in the nation at 3.48.
"The people around our athletes are the most important, but having a facility that meets our needs is critical," said Coach Doug Schwab. "I'm thinking about how we can get our next 100-year-old building. How that will happen is a lot of fans, a lot of donors and a lot of people who believe in what we're doing beyond the wrestling mat."
Copyright 2023 KCRG. All rights reserved.