Weather Academy: Extra Credit
Published: Nov. 7, 2023 at 1:03 PM CST
CEDAR RAPIDS, Iowa (KCRG) - Join KCRG-TV9 and the First Alert Storm Team for Weather Academy: Extra Credit.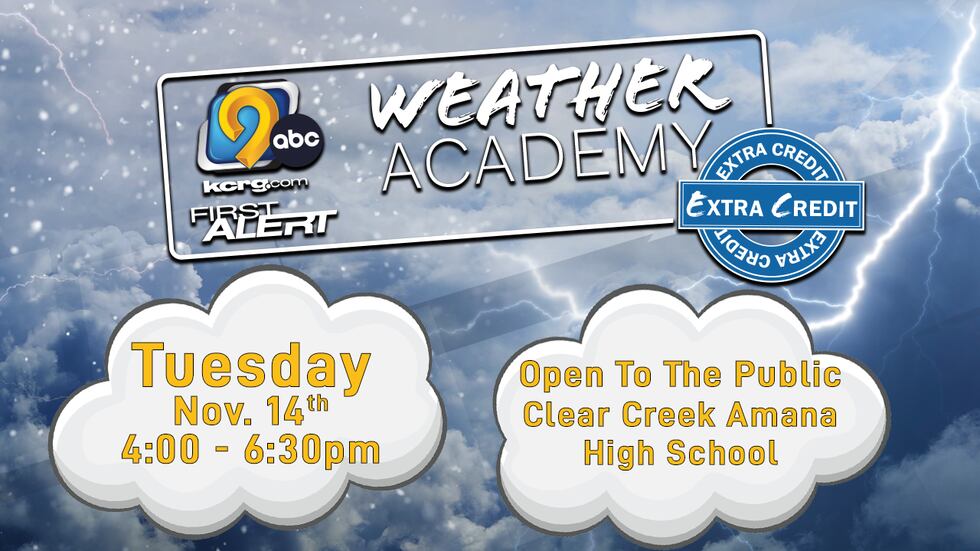 This extension of the First Alert Storm Team's Weather Academy visits aims to bring the excitement and fun of weather and science to communities all across the TV9 viewing area.
From 4:00 - 5:30 pm, families are welcome to come meet the TV9 team, take part in hands-on activities, and test their WeatherWise knowledge. We have several emergency and environmental partners who will be with us as well. Come explore emergency vehicles from a fire truck to a snow plow and and learn about safety resources in your community. Thanks to partners from the Tiffin Fire Department, Johnson County Sheriff, Iowa DOT, Johnson County Ambulance Service, Johnson County Homeland Security & Emergency Management Agency, U of I EMS Teaching Program, and EMS Learning Resources Center for making this happen! This all leads up to a LIVE weather science showcase with fun experiments from the First Alert Storm Team from 5:30-6:30 pm.
The event is free and open to the public. Join us at Clear Creek Amana High School starting at 4 pm on November 14th for Weather Academy: Extra Credit. Let us know you are coming by RSVPing here!
Our Extra Credit events are done on a limited edition basis. If you'd like your school to be considered for a future event, please email Laura Janssen for details. If you are a teacher looking to request a visit from one of our First Alert Storm Team meteorologists during your classroom's weather unit, please fill out this form.
Copyright 2023 KCRG. All rights reserved.