Iowa looks to maintain share of Big Ten West lead when it meets surprising Northwestern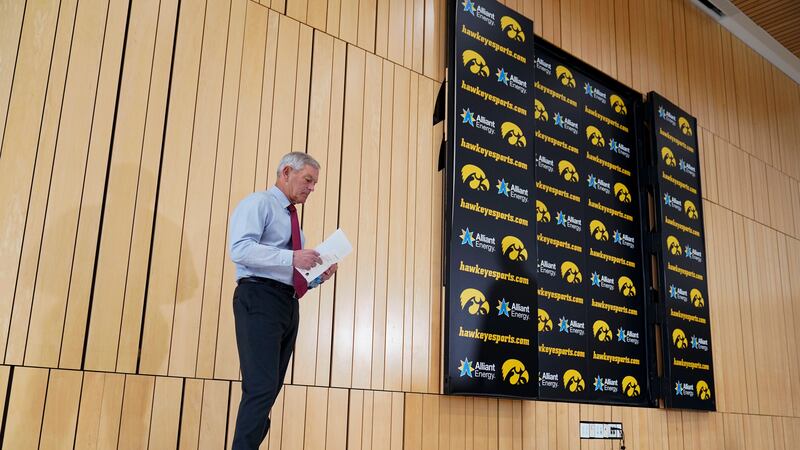 Published: Nov. 2, 2023 at 12:41 PM CDT
IOWA CITY, Iowa (AP) - Iowa looks to maintain at least a share of the Big Ten West lead when it meets Northwestern at Wrigley Field.
The Hawkeyes are tied with Nebraska, Minnesota and Wisconsin. They lost 12-10 to Minnesota two weeks ago.
Interim athletic director Beth Goetz announced Monday that offensive coordinator Brian Ferentz will not return next season. She is Ferentz's direct supervisor because of the school's nepotism rules.
Surprising Northwestern hopes to break a lose-one, win-one pattern after beating Maryland last week and string together back-to-back victories for the first time since a 5-0 start to the 2020 Big Ten West championship season.
KEY MATCHUP
Iowa's offensive line vs. Northwestern's defensive front. Northwestern had six sacks last week for its highest total since 2017. Aidan Hubbard had three to match the second-highest mark in program history. He also tied the single-game high this season by a Big Ten player and took home conference Defensive Player of the Week honors.
PLAYERS TO WATCH
Iowa: QB Deacon Hill. Pressed into a starting role after Cade McNamara tore an ACL, Hill has completed just 37.8 percent of his passes for 427 yards. He has two touchdowns and three interceptions. Hill threw for 116 yards last week — his season high.
Northwestern: QB Brendan Sullivan. Sullivan bounced back in a big way last week, throwing for a career-high 265 yards and two touchdowns after struggling in the previous game. He got sacked a whopping seven times and threw an interception in a loss at Nebraska a week earlier. Interim coach David Braun said Sullivan will start his fourth straight game for the injured Ben Bryant.
FACTS & FIGURES
Both teams have running backs who could hit the 1,000-yard mark in this game, with Iowa's Leshon Williams at 953 yards and Northwestern's Cam Porter at 965. ... The Hawkeyes rank last in the nation in total offense and 118th in scoring. ... Iowa LB Jay Higgins leads the Big Ten and ranks fourth in the nation with 101 tackles. ... This will be Iowa's first game against a Big Ten opponent in a baseball stadium since Thanksgiving 1904 — an 11-0 loss to Minnesota at Athletic Park in Cedar Rapids, Iowa. ... Braun is trying to become the first Northwestern coach with five or more wins in his first season since 1903, when Walter McCormack led the Wildcats to a 10-1 record and a Co-Big Ten Championship. With the Wildcats 4-1 at Ryan Field, he has more home wins than any other first-year Wildcats coach. ... This is Northwestern's third game at Wrigley Field in 14 seasons. The Wildcats lost to Illinois in 2010 in the first college football game at the famed ballpark since 1938 and to Purdue in 2021.
Copyright 2023 KCRG. All rights reserved.