Iowa State eases past Baylor 30-18 to join 4-way tie atop Big 12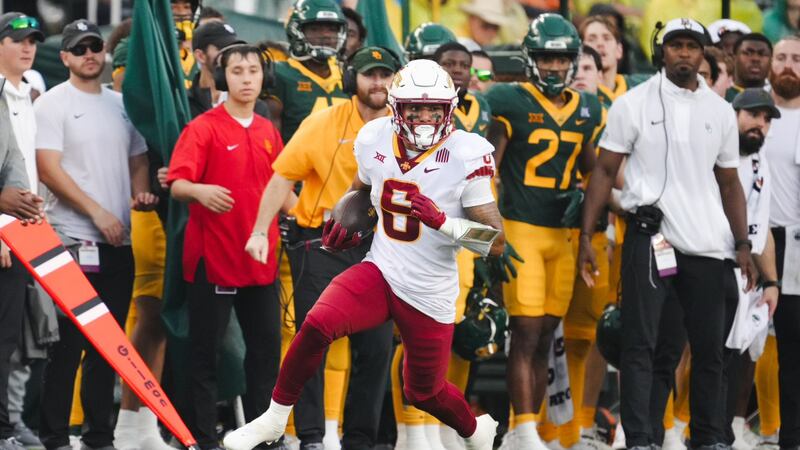 Published: Oct. 28, 2023 at 7:21 PM CDT
WACO, Texas (AP) - Cartevious Norton ran for two touchdowns, Rocco Becht threw for a score and Iowa State held off Baylor 30-18 for its third straight win on a rainy Saturday.
The win for Iowa State (5-3, 4-1 Big 12) combined with No. 6 Oklahoma's 38-33 road loss to Kansas pushes the Cyclones into a four-way tie for first place in the Big 12 with the Sooners, seventh-ranked Texas and Kansas State.
Becht was 19-for-31 passing for 238 yards and was intercepted once. Jayden Higgins caught Becht's touchdown pass, an 18-yarder that ended the Cyclones' first drive and helped them jump out to a 17-0 lead.
Iowa State ran for 162 yards on 35 attempts, and that balance allowed it to convert nine of 15 mostly favorable third-down tries.
Baylor (3-5, 2-3) has lost all three of its home conference games this season and five in a row dating to last year.
Baylor quarterback Blake Shapen was 24-for-41 passing for 239 yards and 69-yard touchdown pass to Monaray Baldwin, who caught six passes for 117 yards.
Shapen, who was intercepted once, had thrown for at least 293 yards in each of his previous four starts this season.
Dawson Pendergrass ran for two touchdowns for the Bears, but Baylor managed only 67 yards rushing, averaging just 2.7 yards per attempt.
THE TAKEAWAY
Iowa State: The Cyclones have picked it up offensively after a slow start this season. They scored 13 and seven points in losses to Iowa and Ohio, respectively, but have put up from 27 to 34 points in each of four Big 12 wins. They could have had more against the Bears but missed two open receivers for what would have been easy TDs.
Baylor: The Bears couldn't get out of their way offensively for much of the day. The long touchdown from Shapen to Baldwin woke Baylor out of an offensive slumber, but the comeback was blunted by missing a pair of 2-point conversions. As a result, the Bears couldn't make it a one-score deficit.
UP NEXT
Iowa State: Kansas next Saturday after the Jayhawks' upset of Oklahoma in the first home game for the Cyclones since Oct. 7.
Baylor: The Bears will try to end the five-game home losing skid in conference games against Houston next Saturday in the first Big 12 meeting of the former Southwest Conference foes.
Copyright 2023 KCRG. All rights reserved.