Becht accounts for 3 TDs as Iowa State drops Cincinnati 30-10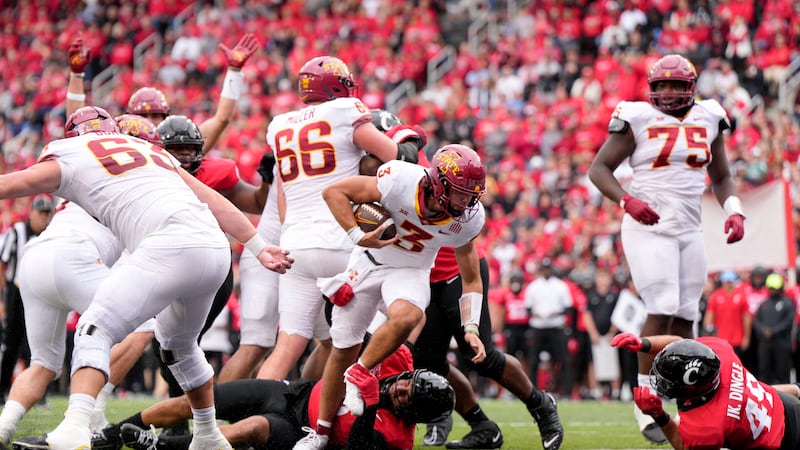 Published: Oct. 14, 2023 at 2:40 PM CDT
CINCINNATI, Ohio (AP) — Rocco Becht threw two touchdowns and ran for another, and the Iowa State defense collected two more interceptions as the Cyclones defeated Cincinnati 30-10 in the teams' first-ever meeting Saturday afternoon.
Becht, a freshman, has now thrown at least one score in each of his first seven games as a starter for Iowa State (4-3, 3-1 Big 12), which handed the Bearcats (2-4, 0-3) their fourth straight loss and their first defeat on homecoming since 2017.
The Cyclones entered the day with 10 interceptions, third-most in the FBS. It took Iowa State defense all of two drives to pick off Cincinnati quarterback Emory Jones.
Jones tossed his sixth interception in the last four games to cornerback T.J. Tampa, giving the Cyclones the ball at the Cincinnati 34-yard line. The turnover set up a 30-yard field goal and a 3-0 lead with 2:12 to play in the first quarter.
Jones responded by throwing a 20-yard score to tight end Chamon Metayer. It was the third touchdown for Metayer in the last two games and the first for Jones and the Bearcats offense in their last 17 drives at home.
Iowa State answered by marching 59 yards in 15 plays and eating up 7:45, taking the lead for good after a little trickery. After Jordan Young dropped a sure interception on third-and-5 at the Cincinnati 15, the Cyclones picked up a first down when kicker Chase Contreraz raced six yards on a fake field goal..
Young dropped another pick on third-and-goal. That play also included a roughing-the-passer penalty on Cincinnati defensive end Eric Phillips.
The errors by the Bearcats led to a 2-yard rush up the middle for a touchdown by Becht. The freshman's second rushing score of the season put the Cyclones ahead 10-7 with 7:48 left in the first half.
Young's struggles continued as the sophomore surrendered a 75-yard gain to wide receiver Jayden Higgins on Iowa State's next drive. The gash led to Becht finding tight end Benjamin Brahmer on a 14-yard strike to make it 17-7 Iowa State at halftime.
The first half ended with Jones throwing another interception.
The Cyclones opened the second half with a 65-yard kickoff return by Roy Bell that set up a 34-yard field goal.
Cincinnati made it 20-10 at the 4:03 mark in the third. After Contreraz added another field goal for the Cyclones, Becht linked up with fullback Stevo Klotz for a 13-yard score with 10:00 to play.
Becht finished 15 of 25 for 241 yards. Jones completed 14 of his 26 pass attempts for just 96 yards, far fewer than the nearly 215 per game the Iowa State defense had allowed entering the day.
THE TAKEAWAY
Iowa State: The Cyclones matched their win total from a season ago (4-8) and improved to 3-1 in conference play for the fifth time under coach Matt Campbell. Iowa State now has a bye week to rest and recover before playing three of its last five games on the road.
Cincinnati: The Bearcats will need to wait another week to capture their first Big 12 win. Cincinnati's first stint in a Power Five conference under first-year coach Scott Satterfield continues to be a rocky one. The Bearcats have now lost four straight for the first time since 2017. That was also the last time they lost on homecoming.
REMSBURG RETURNS
Iowa State offensive lineman Jake Remsburg saw his first action after serving a six-game suspension for gambling. Remsburg was among five projected ISU starters who faced criminal charges in connection with a state investigation into illegal sports wagering by Iowa and Iowa State athletes. Remsburg was alleged to have place 273 wagers totaling $1,108 on a mobile sports betting app. He originally was charged with tampering with records for setting up his wagering account under his mother's name to disguise his identity as an underage college athlete. He pleaded guilty to underage gambling and paid a $645 fine.
UP NEXT
Iowa State: The Cyclones have a bye next week. They'll be back in action Oct. 28 at Baylor (2-4, 1-2). Iowa State lost to the Bears 31-24 at home last season.
Cincinnati: The Bearcats stay home Oct. 21 to host Baylor. It will mark the first-ever meeting between the two programs.
Copyright 2023 KCRG. All rights reserved.