Records set to fall as very warm air mass settles in
Published: Sep. 30, 2023 at 5:44 AM CDT
CEDAR RAPIDS, Iowa (KCRG) - Temperatures will be very summer-like for a few days, potentially as has never been seen in eastern Iowa at this time of year.
Lots of sunshine and a southerly breeze will help the cause, along with a warm start in the mid 60s. These are the ingredients for some anomalously warm temperatures, and expect highs to reach a little higher than Friday's already very warm readings. Upper 80s to mid 90s are likely. This keeps our northeast zone just outside of records, but most of the rest of the viewing area could exceed those numbers.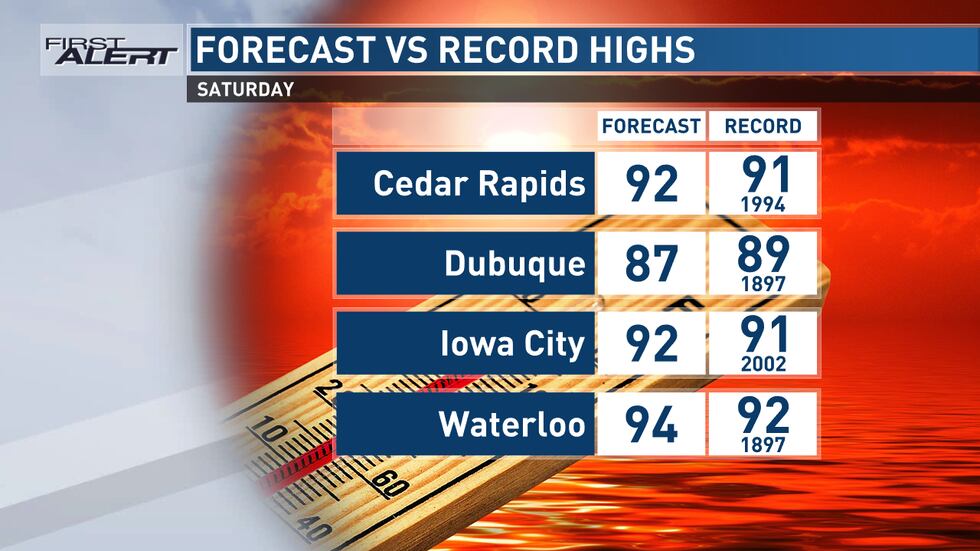 Conditions won't change a whole lot on Sunday, with similarly sunny skies and southerly winds. Highs may fall a degree or two short of Saturday's readings, but this still places some records in danger. The good news with this warm spell: dew points will be reasonable in the upper 50s to low 60s, which gives a slight touch of humidity to the air but does not match the typical oppressive mugginess you'd expect with these temperatures in the middle of the summer.
A very modest reduction in high temperatures is looking possible for the start of the work and school week, but mid to upper 80s are still likely. Dry weather sticks around during this time, too.
It's not until Tuesday night into Wednesday when things will start to change. A cold front approaches, giving us a decent chance of some showers and storms with it. Heavy rain doesn't seem likely here as the front should steadily move through the region. We'll already see relief in temperatures by Wednesday, with highs in the mid 70s at best, and struggling to hit 70 on Thursday and Friday.
A reinforcing push of cooler, Canadian air heads toward us by next weekend. A few showers are possible as it moves in on Friday, with highs next weekend only in the low to mid 60s. That's about a 30-degree difference between weekends. Welcome to fall in Iowa!
Copyright 2023 KCRG. All rights reserved.