Watching for development of scattered showers and storms
Published: Sep. 25, 2023 at 5:36 AM CDT
CEDAR RAPIDS, Iowa (KCRG) - A storm system will slowly move through the region over the next couple of days, carrying some scattered showers and storms with it.
An associated frontal boundary stretches from the low center in Minnesota across the eastern half of the TV9 viewing area. Right along this boundary, we've seen patchy areas of fog develop, and that remains a possibility until early afternoon. Be prepared for some areas of changing visibility in a band between Davenport and U.S. Highway 151 southwest of Dubuque.
Expect our ongoing mix of some bright sunshine and occasional bouts of cloudiness to continue through the afternoon, with scattered showers and storms starting to develop in parts of the area. Our northern counties and those along the frontal boundary are somewhat more favored for this activity. While the storms will be scattered, they will also be slow-moving. Isolated areas of heavy rainfall are possible as a result, though many areas will miss out on any rain entirely today. Highs reach the mid 70s to low 80s.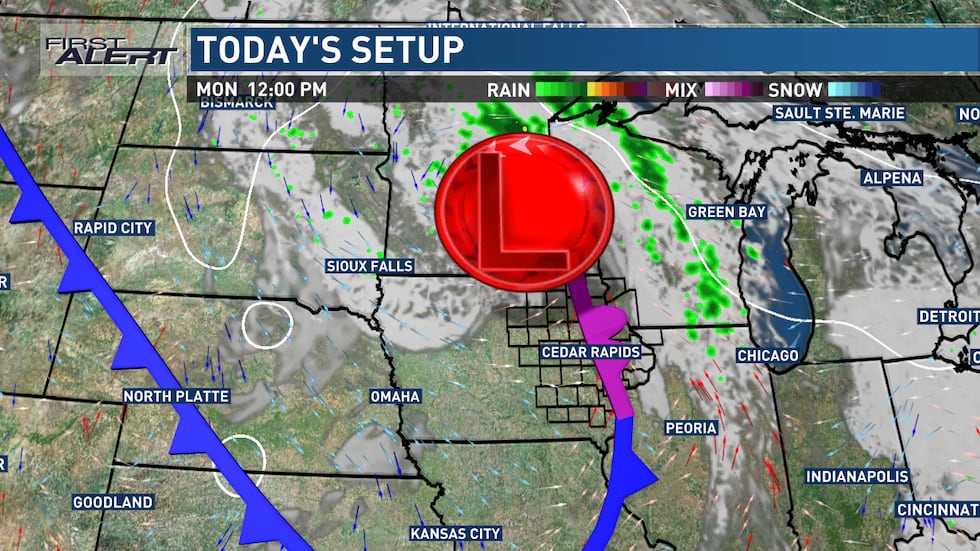 A few showers and storms are possible tonight, as well, as lows hit the upper 50s to low 60s. An increase in activity is possible into the afternoon as we warm up a little bit, with the area of low pressure tracking right through eastern Iowa. Due to a slightly cooler air mass getting into the area, and increased cloud and rain activity, highs will likely be held back in the upper 60s to low 70s.
Drier weather returns for the middle of the week, and will stick around for at least several days to follow. A large area of high pressure sets up in the eastern United States, generally bringing quiet weather to the area. We will be on the warm side of the high, though, with temperatures gradually climbing pretty decently above normal into the low 80s by the weekend.
Copyright 2023 KCRG. All rights reserved.