Decorah museum welcomes Norway's Foreign Minister, Ambassador to U.S. ahead of new buildings dedication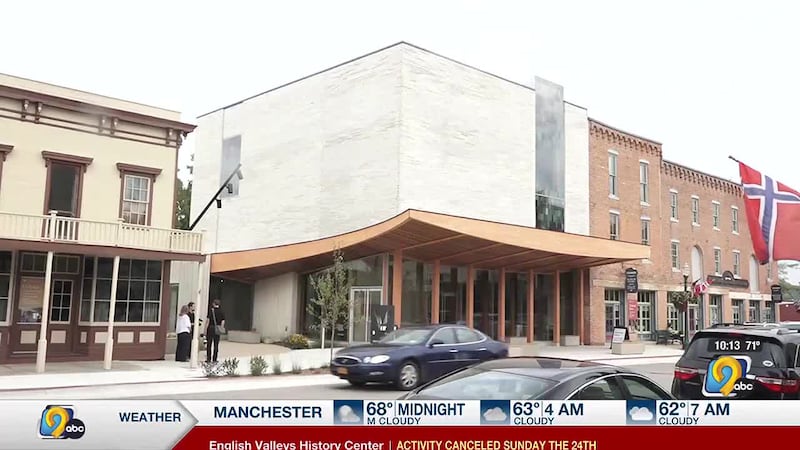 Published: Sep. 23, 2023 at 10:38 PM CDT
Decorah, Iowa (KCRG) - People in Decorah are proud of their heritage and the Vesterheim Norwegian-American Museum is expanding to keep this Nordic history & tradition alive.
As part of their 12.5 million dollar From Strong Roots, A Bold Future Campaign they've built a new commons building which includes areas for gatherings, exhibits and collections.
The President and CEO of Vesterheim Norwegian-American Museum Chris Johnson says this new space helps the entire region.
"It's a big boon for the museum but i think it's also a great boon for the community of Decorah as well. Vesterheim is a vital attraction here in Decorah helping overall with tourism in this area," said Johnson.
Ahead of the public dedication on September 30th, they held a much smaller celebration on Saturday, and welcomed both Norway's Foreign Minister Anniken Huitfeldt and Ambassador to the U.S. Anniken Krutnes.
They showed them the museum, historic village grounds and the work they do teaching Norwegian folk art.
The partnership between the museum and Norway's government is nothing new and goes back decades.
"It offers connections to us back to Norway today and the kind of the street runs both ways I would say we also have Norwegians who come here to the United States we're just as interested in understanding where their ancestors ended up here," said Johnson.
Johnson said they're already looking ahead to 2025 where they plan to have a special exhibit marking the 200 year anniversary of the first organized immigration of Norwegians to America.
Copyright 2023 KCRG. All rights reserved.