Scattered showers and potentially strong to severe storms possible Saturday
Published: Sep. 23, 2023 at 7:12 AM CDT
CEDAR RAPIDS, Iowa (KCRG) -We're waking up to isolated showers and storms in our Northeast Zone. Temperatures across the area are in the mid 60s.
We'll continue to have a chance for isolated showers this morning. However, the better chance for showers and storms will be in the afternoon and evening when a line of storms is expected to move into the area from the west between 3 p.m. and 5 p.m. The line is forecasted to weaken as it moves east, reaching the Cedar Rapids area between 6 p.m. and 8 p.m. Finally, showers and a few storms are forecasted to move into the Mississippi River area between 8 p.m. and 10 p.m. The best chance for strong to severe storms will be in our far western counties, however, one or two strong storms can't be ruled out farther east. Hazards with today's storms include damaging winds, large hail, and tornadoes.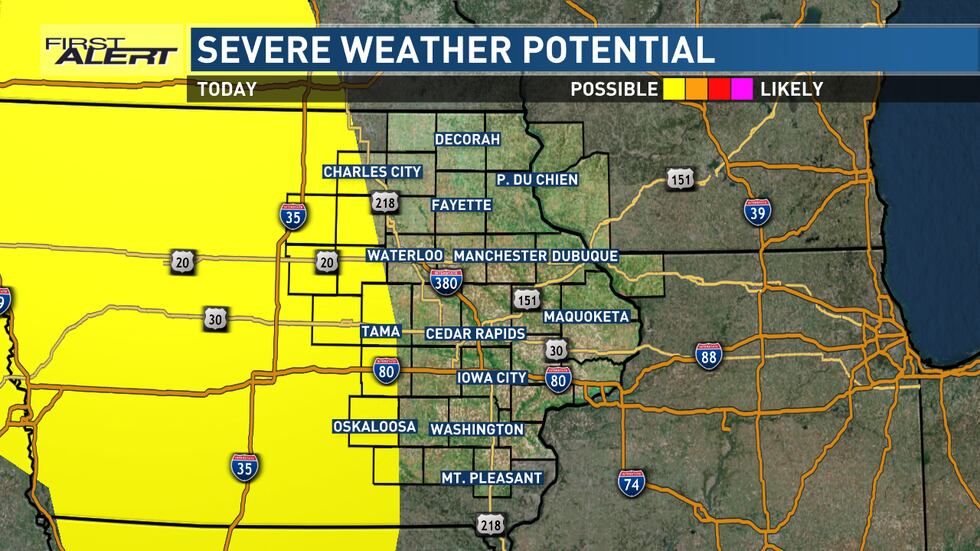 Scattered showers and storms will also be possible Saturday night and into Sunday with lingering chances for showers on Monday. Highs on Saturday are forecasted to climb into the low 80s with the 70s expected Sunday and through the workweek. After Monday the forecast looks dry with a mix of sun and clouds.
Copyright 2023 KCRG. All rights reserved.