Air quality suffering in eastern Iowa from Canadian wildfire smoke
Published: Jun. 27, 2023 at 8:44 AM CDT
CEDAR RAPIDS, Iowa (KCRG) - Local public health officials are warning of elevated particulate matter in the air due to distantly-transported wildfire smoke.
Linn County Public Health issued an advisory for their area due to increased levels of PM2.5, or finer-scale particulate matter that is often associated with wildfire smoke. Widespread fires in Canada have produced large quantities of smoke in recent days, which have migrated in the atmospheric flow into eastern Iowa.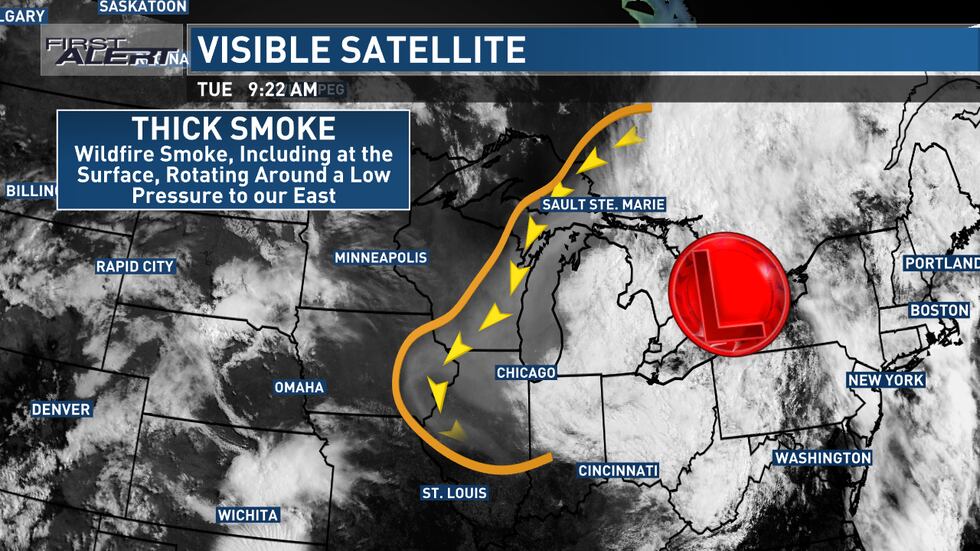 Officials said that, as of mid-morning, pollution levels in Linn County were in the category that affects people who have respiratory conditions that make them sensitive to particulates. Levels of smoke could increase to a level that would affect a wider population during parts of Tuesday.
"Fine and coarse particles can cause a variety of serious health problems. When exposed to these particles, people with heart or lung diseases and older adults are more at risk of hospital and emergency room visits or, in some cases, even death," the agency wrote, in a statement. "These effects have been associated with short-term exposures lasting 24 hours or less. Particles can also aggravate heart disease such as congestive heart failure and lung diseases such as asthma and bronchitis."
Other parts of Iowa, including much of northeast Iowa, reported similar levels of particulates that would have a similar effect.
Dubuque County Public Health observed an elevated air quality index (AQI) of 191 Tuesday afternoon. An AQI of less than 100 represents Moderate air quality concern, and under 50 represents Good air conditions.
Residents are encouraged to reduce the amount of time spent outdoors doing strenuous activity until conditions improve.
Visibility was also affected in areas that were experiencing wildfire smoke, with measurements down to as low as two miles.
Copyright 2023 KCRG. All rights reserved.