Ramaswamy proposes raising voting age to 25, unless people serve in military or pass a test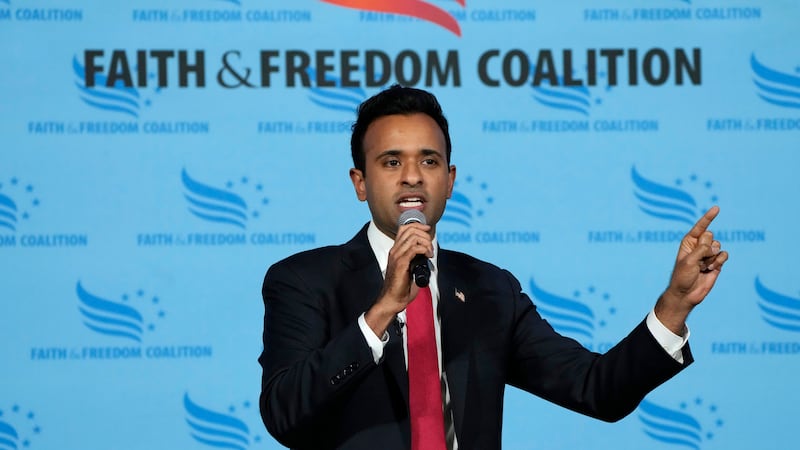 Published: May. 12, 2023 at 8:02 AM CDT
COLUMBIA, S.C. (AP) — Republican presidential hopeful Vivek Ramaswamy on Thursday voiced support for changing the overall U.S. voting age to 25, unless younger Americans fulfill at least six months of service in the military or as a first responder — or pass the same citizenship test administered to those seeking to become naturalized citizens.
Ramaswamy's campaign announced the biotech entrepreneur and "anti-woke" activist's push for a U.S. Constitutional amendment promoting "civic duty voting," which he announced in a news release and detailed during a campaign event in Urbandale, Iowa.
Revising the Constitution is no simple task, requiring overwhelming support in Congress and in state legislatures. Still, Ramaswamy said in his release that the "absence of national pride is a serious threat to the future of our country" and argued his proposal "can create a sense of shared purpose and responsibility amongst young Americans to become educated citizens."
On Twitter during his Iowa event, Ramaswamy acknowledged, "I understand not everyone will like this proposal and that it will take persuasion to convince many of its merits, but I'm ready to take that on."
At age 37, Ramaswamy is the youngest person competing for the 2024 GOP presidential nomination in a field that already includes several candidates in their 70s, including former President Donald Trump and former Arkansas Gov. Asa Hutchinson.
Another rival, former U.N. Ambassador and South Carolina Gov. Nikki Haley, 51, has made the call for a new generation of political leadership central to her campaign, even positing that cognitive testing should be required for older politicians.
Making changes to the U.S. Constitution requires approval by two-thirds of Congress, as well as three-fourths of state legislators.
The 26th Amendment, ratified in 1971, lowered the federal voting age from 21 to 18. The debate had begun decades earlier during World War II, when Congress lowered the minimum draft age to 18, prompting the slogan "old enough to fight, old enough to vote."
States began to move toward lowering their voting ages, following a call by President Dwight Eisenhower made in 1954. More pushes for overall changes came during the Vietnam War, and, in 1970, Congress amended voting rights law, lowering the voting age in federal, state and local elections to 18.
A handful of states sued the federal government, arguing that Congress had no jurisdiction over state voting ages, with which the Supreme Court agreed. A Constitutional amendment, which superseded any state laws with thresholds higher than age 18, was swiftly passed by Congress and ratified by three-quarters of states.
As part of his proposal, Ramaswamy argued that his plan would require "no additional government bureaucracy" to administer, saying debate generated by his proposal "will itself catalyze a long overdue conversation in America about what it means to be a citizen and how to foster civic pride in the next generation."
Copyright 2023 KCRG. All rights reserved.