Whistleblower: Iowa Parole Board broke laws and risked public safety
Published: May. 5, 2023 at 12:45 AM CDT
CEDAR RAPIDS, Iowa (KCRG) - A former Iowa Board of Parole member told our KCRG-TV9 i9 Investigative Team about several problems within the state agency, which oversees early releases.
Kathleen Kooiker, who is a retired magistrate judge was on the Board of Parole as a Republican from 2018 to 2021, said board members voted to release inmates within minutes while she served on the board. She also said former Board of Parole Chair Helen Miller didn't review cases like her predecessors while collecting a salary of around $97,000 and had three alternates decide cases without permanent board members, which violates Iowa Law.
Kooiker allowed TV9 to review and make copies of documents, which backed up her claims.
"The system is broken and it's dangerous," Kooiker said. "...People are going to get killed, people are going to get raped, people are going to get robbed, people are going to be selling drugs."
Kooiker allowed TV9 to review and make copies of her internal documents, which backed up her claims. Those documents will likely play a part in her lawsuit alleging she was not reappointed to the board as retaliation for speaking out against practices she believed broke state law.
Nick Davis, who is the chair of the Iowa Board of Parole, said the board and the Governor's Office do not comment on pending litigation in a statement.
Our i9 Investigative Team has done other stories about people convicted of violent crimes avoiding time in prison in our Investigative Series called "Released Too Soon". You can read our first story about a sex offender released from prison by mistake, our second story about documents claiming the Board of Parole made some decisions illegally and our third story about concerns about releasing criminals too early. Our fourth story was about a man, who violated his probation more than 50 times before being arrested for his role in a drive-by shooting.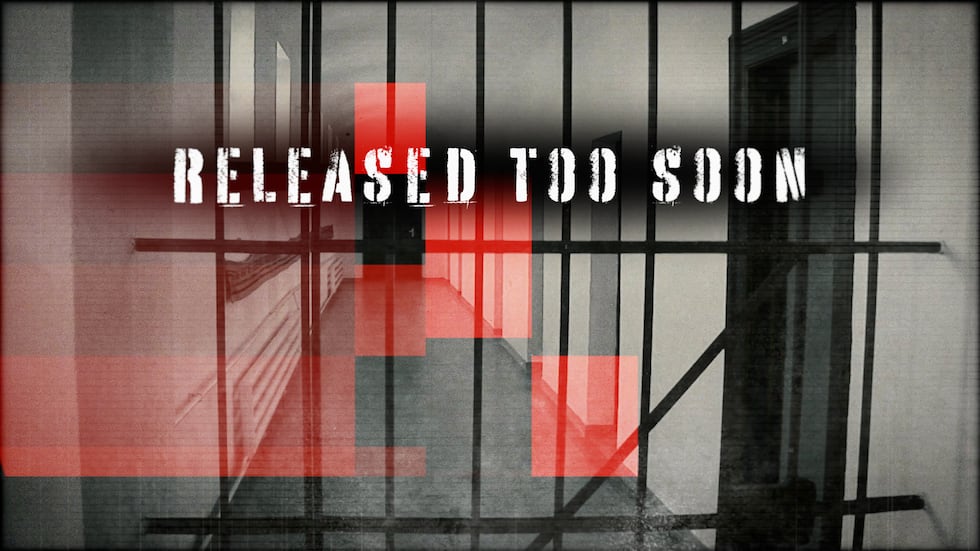 According to Iowa Law, the Iowa Board of Parole reviews thousands of cases because most inmates are eligible for parole at least once a year. State law gives the board the ability to release people when it's the board's opinion there is a "reasonable probability" that the person can be released without detriment to the community or the person.
The board can't release those with a life sentence or inmates still serving a mandatory minimum, which means board members make judgment calls on each inmate with the information provided by the Department of Corrections.
Those pieces of information include criminal history, disciplinary history, risk assessment score, court records, presentence investigations reports, letters from victims and other various documents.
Kooiker said these documents come to board members in the form of a docket, which could range from five to more than 2,000 pages. She said this allows board members to make informed opinions on if somebody should get parole.
"It is just like sitting on a jury as a judgment call," Kooiker said. "You take all these facts that are given to you, you plug them into the law and then you make a decision about which way to go,"
Kooiker said the board became short-staffed to decide on the around 300 cases a week due to appointments not being made in a timely manner and former board chair Helen Miller restructuring the state agency. She said Miller decided to change her role to focus on the board's public relations because the board wasn't popular with other groups within state government like the Department of Corrections.
"We counted on that person to carry part of the load," Kooiker said. "We're all trying to paddle this canoe that you have to keep paddling hard to get this many cases done and we had one person that wouldn't even get in the boat. So that was very frustrating."
Kooiker said Miller replaced herself on board hearings with alternate members, who earn $300 a day plus travel accommodations.
According to State Records, Helen Miller earned a salary worth $97,460 per year. Those records also show the amount paid to alternates increased after Miller joined the board in June 2019, which is the last month in Fiscal Year 2019.
Kooiker also provided our KCRG-TV9 i9 Investigative Team with documents showing the Board of Parole made decisions with only alternate members. According to Iowa law, all board of parole decisions must have at least one permanent member.
She said the Attorney General's Office told her to contact the Department of Corrections about the issue and to notify inmates affected by the error. However, Kooiker said Miller didn't notify either party and instructed another member to just add their name to the decision.
"It was extremely frustrating," Kooiker said. "I knew we were purposely not violating the law. I thought it was a mistake when it happened, but trying to cover it up that way was no longer a mistake. Now, I felt like it was a cover-up and I felt like we were complicit in it."
Kooiker provided TV9 with a document showing a legislative proposal from the Iowa Board of Parole to change Iowa Law to "lessen the restrictions on when alternate board members can be called" to increase the board's proficiency and help with the workload and complexity.
The document said the costs for the Iowa Board of Parole will increase, but it those costs could get offset by saving the Department of Corrections and Community-Based Corrections money.
"There were times that I was set to do an interview and then I was told to go sit in your cubicle. I'm going to put an alternate in to chair this interview," Kooiker said. "This was done quite a few times."
Sheila Wilson, who is also a former member of the Iowa Board of Parole, also said the board used three alternates to illegally review cases and interview offenders in a letter to Governor Kim Reynolds in February 2021. She said the chair didn't care who interviewed offenders, as long as it wasn't her.
"She cared nothing about complying with our budget and told us we could have two panels convene at the same time, increasing the taxpayers' expense," she wrote.
Nick Davis said part of the changes to state government passed this session include eliminating alternate members from the Board of Parole and making all five board members full-time beginning July 1st. Kooiker said she believes the change is a positive for the Board of Parole.
Sudden Decisions and Frustrated Parole Officers
Kooiker said another problem at the Board of Parole included members making decisions to release inmates within a few seconds or a minute. She said this is concerning for public safety because there was no way for people to read a case in a small amount of time.
"There's no way you could even open the docket and read one page of it in that much time, and I just found that very scary for public safety," Kooiker said.
She said other board members told her they would copy other board members' decisions and wouldn't read cases before entering decisions. Kooiker also said she was verbally reprimanded for asking board members to read cases.
"I can't imagine somebody voting to parole someone without reading the case because that's our job," she said. "It would be to me akin to being on a jury where there are 12 people and 11 of them say I'm just going to put on headphones. You listen to the case and then whatever you vote, I'll just copy. It's not supposed to work that way. There's a reason three of you have to agree to make a decision. All three of you are supposed to be informed on that offender and whether or not they're safe to have in the community."
Our KCRG-TV9 i9 Investigative Team received emails show officials in Community Based Corrections, who oversee parole in the state of Iowa, are concerned about decisions from the Iowa Board of Parole.
Kip Shanks, who is the director for the 4th Judicial District based in Council Bluffs and covers Southwest Iowa, expressed his frustration to fellow directors in an email after the board of parole tried to parle a person to the victim's house after he tried to burn it down.
"I really don't understand the thought process anymore," Shanks said. "It appears that nobody needs to remain incarcerated anymore."
Bruce Vander Sanden, who is the director for the 6th Judicial District based in Cedar Rapids and covers central eastern Iowa, said he was concerned after the Iowa Board of Parole tried to release a shooter at the pedestrian mall in Iowa City.
"Luckily, we caught it before he was released but the amount of pushback (including the Johnson Co. Attorney) it took them to really understand they could not release him...very concerning for public safety," Vander Sanden said.
Waylyn McCulloh, who is the director for the 7th Judicial District based in Davenport and covering eastern Iowa, said in an email to other directors he "questioned the release" of a habitual OWI offender. He said the offender was paroled weeks into a five-year sentence and then kidnapped and killed a young girl.
That man was Henry Dinkins, who is now accused of kidnapping and murdering a 10-year-old girl named Breasia Terrell. Dinkins, who is a registered sex offender, received parole about 10 separate times based on information from the Iowa Board of Parole. Three months after his parole was effective, police said he kidnapped and killed Terrell.
Kenneth Kolthoff, the Director of Community Based Corrections for the 1st Judicial District, shared an example of the Board of Parole granting early release to a twice-convicted sex offender. State records showed the offender wasn't eligible for parole for almost 18 years.
"Just sharing as another example of how f'd up the system is becoming," he wrote to other parole officers.
Nicholas Crawford, who is the communications director for the Iowa Department of Corrections,said the error occurred after the inmate went through a unique appeal process and the department wrongly calculated his sentence.
Kooiker said the Board of Parole should have caught the mistake before his parole was approved because three board members have to review the case.
"That is not due diligence, that should never have happened," she said. 'Somebody should, especially with three members reading it at the board. If they're not copying each other's decisions and if they're really reading it, that should have been red-flagged quickly."
Warnings to the state
Kooiker tried to warn various Iowa Republicans about issues within the Board of Parole, which also includes the board not operating in party balance for a period of time, insufficient minority representation required by code and the length of her term being incorrect.
Documents Kooiker provided to our KCRG-TV9 i9 Investigative Team show she wrote to a group of 10 Republican State Senators, the Governor's Office, the State Ombudsman's Office and the State Auditor without getting any group to open an investigation.
Kristie Hirschman, who is an ombudsman, said it pushed her complaint to the State Auditor's Office because it was best situated to consider allegations of misuse of state funds and review the agency's compliance with Iowa Code. She said her agency couldn't review the case because it doesn't have jurisdiction over the Governor's office among other issues.
Sonya Heitshusen, who is a spokesperson for the State Auditor's Office, told our KCRG-TV9 i9 Investigative Team in an email that it would address all issues appropriately before our office in its next report on the Board of Parole.
Kooiker said she met with Sen. Amy Sinclair (R-Wayne) and handed over some documents related to her problems in a letter to 10 Republican State Senators.
Sen. Julian Garrett (R-Warren) said in an email he did look into the complaint about Helen Miller, but didn't pursue the matter once Miller retired from the Board of Parole in July 2021.
Outside factors influencing the board
Overall, Iowa law asks members to use around 15 holistic factors when making decisions. Those also include the nature of the offense, recidivism record, length of time serves, convictions or behavior, past performance on parole or work release, history of drug use, risk assessments, participation in institutional programs and habitual misconduct and psychiatric evaluations.
One factor, which isn't listed in the law, is decreasing Iowa's prison population. According to the Department of Corrections, Iowa's prisons are overcrowded by about 14%.
Minutes, which our KCRG-TV9 i9 Investigative Team received from a public records request, show former board chair Andrew Boettger consistently pushed board members to reduce the prison capacity each month by .5% to 0% over a two a year period. He announced these goals in August 2021.
"We cannot let distractions get in our way of staying on target," he said in October 2021.
According to the minutes, Boetteger said he met with the leadership in the Department of Corrections to release more inmates and would review cases over holiday breaks as "second looks" then bring them to the board for an additional review and worked to find more time for board members to review cases.
"We will continue to try to think outside the box to get to our release goal," he said in December 2021.
Kooiker said the Department of Corrections became more involved in Board of Parole meetings once Helen Miller became chair. She said she was uncomfortable with the role it began playing in the process because she believed the two sides should act independently.
"Victims should be at the table too because they're writing us letters saying I hope you don't let this guy out," she said. "If you're going to include everybody, include everybody,"
Iowa Board of Parole Meetings are open to the public, although our KCRG-TV9 i9 Investigative Team has had trouble entering meetings posted online.
Kooiker said she was also uncomfortable with a member mentioning his role on the board on his law firm's website.
"Hopefully if somebody that his law firm had represented, he would have recused himself," she said. "But, I think that is a big conflict of interest if you have someone who's making money off defendants and making parole decisions for convicted defendants and advertising."
Iowa Code requires at least one member of the board to practice law in Iowa.
Kooiker said she doesn't want to sue and considers Gov. Kim Reynolds a friend after going to her daughter's wedding along with a surprise party for her husband's 50th birthday and other events. However, she's said she's speaking out because she's concerned about the effects of the board on public safety.
"I never wanted to sue, but sometimes the three branches of government, if they don't work, you go to the 4th branch and that's the press," Kooiker said. "And this is very hard to do this being a whistleblower. It is expensive. It is time-consuming. It is loss of sleep. I think very highly of Kim Reynolds. I had no intention of suing her. I like Andrew Becker. I like Sue. I like Ralph Haskins. I don't want to put them out on the spot that way, but these things are illegal. They affect public safety."
Copyright 2023 KCRG. All rights reserved.